Obama Sends Powerful Message By Choosing This Woman to Represent America At the Sochi Olympics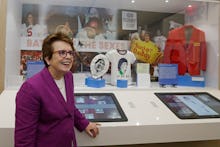 The news: In the latest tense move in American-Russian relations, President Obama has announced that for the first time since 2000, America will not be sending a president, vice president, former president, or first lady to the Olympic games.
Instead, he's sending two openly gay athletes in protest of Russia's brutal anti-"gay propaganda" laws: tennis legend and former U.S. Olympic coach Billie Jean King and hockey player Caitlin Cahow. While King will be a part of the delegation that represents the White House at the opening ceremonies on Feb. 7, Cahow will be part of the delegation that attends the closing ceremonies on Feb. 23.
While the White House did not openly list the two athletes' sexual orientation when explaining their decision, it did issue a statement saying "The U.S. Delegation to the Olympic Games represents the diversity that is the United States."
"I am equally proud to stand with the members of the LGBT community in support of all athletes who will be competing in Sochi and I hope these Olympic Games will indeed be a watershed moment for the universal acceptance of all people," said King.
Cahow told USA Today that "It's obviously a statement that's being made, but I think it's an incredibly respectful one. Basically, the White House is highlighting Americans who know what it means to have freedoms and liberties under the constitution. That's really what we're representing in Sochi and it's not at all different from what's espoused in the spirit of Olympism."
Why it's happening: Russia's brutal anti-gay propaganda law, signed into law on June 30, was backed by President Vladimir Putin. It banned the "propagation of nontraditional sexual relations to minors," giving police across Russia unprecedented authority to violate the guaranteed constitutional rights of the nation's gay citizens. As a result, gay pride parades have been banned, LGBT citizens have been harassed and imprisoned by police, and homophobic beatings have become commonplace. Russia's gay, lesbian, bisexual, and transgender citizens have reason to fear for their lives.
The Obama administration's decision comes on the heel of news that the commissioner of the European Union, Viviane Reding, and German President Joachim Guack have both decided to boycott this year's Olympics.
Meanwhile, relations between the U.S. and Russia have been shaky at best of late, while Russia's engagement with the EU has continued to deteriorate over political tensions in the Ukraine, giving other countries ample reason to express their displeasure with Putin.