In Surprisingly Bold Move, LGBT Magazine Names Pope Francis Man of the Year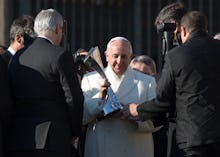 The news: On Tuesday, The Advocate, the oldest LGBT publication in the United States, took pope-mania to the next level, naming Pope Francis their "Person of the Year." The nomination coincided with the Pope's 77th birthday, which he celebrated by inviting four homeless people to share his breakfast. Pope Francis has not been an outspoken supporter of gay marriage, but he has been less homophobic than any of his predecessors.
This is the pope's latest accolade. When TIME named Pope Francis Person of the Year, the decision was met with great surprise. He beat Miley Cyrus, Edward Snowden, Bashar Assad, Hassan Rouhani, Kathleen Sebellius, Jeff Bezos, Ted Cruz and Edith Windsor for the honor. 
Nancy Gibbs, the managing editor of TIME, explained that the new pope "really stood out […] as someone who has changed the tone an perception and the focus of one of the world's largest institutions in an extraordinary way." USA Today and other publications approved the decision, posting lists explaining why the pope was the right choice.
But is he a good choice? Last July, when asked what he thought about gay people within the Catholic Church, Pope Francis famously replied: "If a person is gay and seeks God and has good will, who am I to judge?" While this is an encouraging statement, especially when one considers the Catholic Church's previous statements about homosexuality, does it really warrant Pope Francis' nomination as person of the year?
The Advocate clarified the reasons for their choice eloquently, claiming that the current pope has spoken "some of the most encouraging words a pontiff has ever spoken about gay and lesbian people." Regardless of what the official reasons may be — and you can check them out here — making the pope an icon of gay rights is betraying the legacy and the doctrine of the institution he represents.
Is Pope Francis a good pope? Certainly. Is he better than his predecessor? Definitely. Do his tepid remarks make him an activist of the caliber of Edith Windsor or the countless others who helped pass gay marriage bills in the U.S. this year? No.  
The Catholic Church has never been and is not currently a staunch supporter of the LGBT community. Pope Francis' lax stance on homosexuality is nothing to celebrate — it is the symptom of an institution struggling to keep up with the shifting moral values that surround it and its flock. Just three year ago, when Pope Francis was just Cardinal Jorge Mario Bergoglio, he called same-sex marriage "a destructive attack on God's plan?"
TIME's choice may have been controversial, but this recent decision by The Advocate seems like an attempt to see acceptance and activism where there is none.