The 'Between Two Ferns' Christmas Special is Hilariously Awkward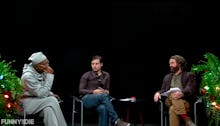 If you thought Between Two Ferns was going to bring on the holiday cheer for its "Christmas F-ing Spectacular," you were wrong. While Funny or Die's fake talk show, where host Zach Galifinakis attempts to make his guests feel supremely uncomfortable, doesn't quite embody the Christmas spirit, the episode strikes awkward gold with special guests Samuel L. Jackson (introduced as "Samuel L. Jack's son") and Tobey Maguire ("Toby"), and a bizarre musical performance by Arcade Fire (whose name Galifinakis doesn't even remember).
The fact that the actors are cast against type makes the episode work: sweet, congenial Maguire comes across as disdainful, while Jackson, famous for his apoplectic rants and signature f-bombs, handles Galifinakis' questioning with chilled-out aplomb. Galifinakis tears through the two actors' filmography, mocking everything from The Cider House Rules and Turbo to Spider-Man and the Die Hard movies.
"When did Hollywood become such a f-ing — like what, everybody's got to be a superhero now?" he asks, posing the question to two of the most famous faces of the Marvel comics.
"Not everybody, apparently," Jacksons answers.
"Only heroic people," Maguire says, giving Galifinakis a pointed look.
Galifinakis tries to liven up the holiday spirit by gifting his guests with DVD copies of his film The Campaign, which are promptly thrown back to him after Maguire scribbles his autograph on the cover. Then, in a surreal montage, Arcade Fire is asked to perform a cover of "Little Drummer Boy." As frontman Win Butler lights up a cigarette, Galifinakis takes selfies, and an overwhelming amount of fake snow falls on the set. ("It's asbestos," Galifinakis says as his guests cough and choke.)
But the best bit is the host's uncomfortable attempts to bond with Jackson over African-American culture. When Galifinakis initiates a fist bump at the end and whispers, "Black power," Jackson simply shakes his head and chuckles. And when Galifinakis signs off with, "Happy holidays," Jackson one-ups him.
"Don't forget Kwanzaa," he yells off-camera.
Galifinakis hangs his head, ashamed by his oversight. "And Kwanzaa."
Happy holidays — and Kwanzaa — indeed.