Here's the One Image That Sums Up 2013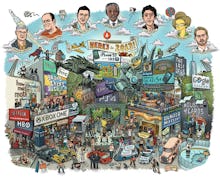 Earlier this year, Mario Zucca, a Pennsylvanian illustrator, was approached by Beutler Ink to create an image to sum up 2013, with a focus on the most important – or at least most memorable — events, personalities, and themes from popular culture. Almost 90 such "events" were incorporated into the Times Square-like setting he selected for his drawing. From casual references to Arrested Development to witty puns about Game of Thrones, Zucca captured many of the pop culture obsessions that characterized 2013.
Tobias was featured representing the Bluth family and the return of Arrested Development. 
The cast of Game of Thrones was depicted outside a bridal store, in a casual reference to the Red Wedding episode that ended the show's last season.
The Hunger Games make an appearance, as do Netflix and Grand Theft Auto. Zucca did not shy away from more serious subject matter, however ... hovering at the top of the image are many of the iconic people who passed away this year.
Cory Monteith and Nelson Mandela, two very different types of icons, share the upper portion of the image as two of the notable deaths of 2013.
Vine, Candy Crush Saga, and twerking also share notable mentions. Do you agree with the events Zucca and Beutler selected? How many can you identify from the image without looking at the list?
A complete list of the events and where to find them is available here.