The New Mitt Romney Documentary Will Change Everything You Thought About the 2012 Election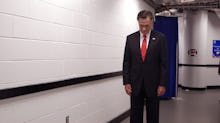 It was a month before the presidential elections last year that the "Mitt Romney Style" video, a parody of Psy's "Gangnam Style" was circulating around college campuses. Its chorus — "Affluence, extravagance, that's Mitt!" — was like a rallying cry for everyone who thought Mitt Romney was a rich robot. That is, it was a rallying cry for pretty much everyone. That's the picture we've all had of Romney for awhile now. Now, film maker Greg Whiteley is trying to change that.
The trailer for a new documentary on the candidate, MITT, was released today. The documentary will be released on Netflix. It stands in stark contrast to whatever negative perceptions we may have towards Romney. The tagline of the trailer is: "whatever side you're on, see another side." It promises to show a softer, warmer side to the former Republican presidential candidate. Within the span of two minutes, we see Romney rolling down a snowy hill and ironing his shirt sleeve while still wearing his shirt — we see an ordinary, humanizing, modest side.
But running for president is not an ordinary journey. The trailer highlights how he's been constantly attacked and "beat up from all sides." It intercuts shots of Romney goofing around with heavier scenes of his family dealing with harsh media criticism. These scenes are, of course, completely divergent from the popular media mockery of his lack of human qualities.
Rather than retreading the media stereotype, the film seeks to portray Romney as a more likeable, self-aware character. He pokes fun at himself, knowingly joking that Americans view him as a "flipping Mormon." We see Romney lamenting how losing the presidential race will make him a loser for life. The film seems to disagree.
But I'm not sure if I'm buying this whole "Mitt Romney as the misunderstood underdog" message — even when the trailer came a day after President Obama's approval rating hit an all-time low. A few months before last year's presidential elections, Romney had an estimated net worth of $230 million. Moreover, the media is cruel to all politicians, Republican or Democrat. Take, for instance, the Obama birthers. Let's just hope that the documentary stays true to its word of seeing a different, non-partisan side — we don't need any more Mitt Romney campaign ads.