'Christmas in Harlem' Should Be On Everyone's Holiday Playlist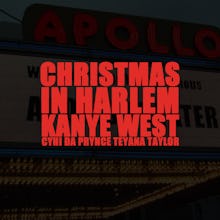 We should all accept it: there's no escaping Kanye West.
Now that it's December, West's "Christmas In Harlem" has once again resurfaced to spice up our holiday playlists.
Kanye released "Christmas In Harlem" in 2010 as part of his GOOD Fridays series of free music giveaways. It samples songs by Marvin Gaye and Shuggie Otis, tacks on a slew of verses by other artists, and "raps" (sorry, I had to do it) them up neatly with a bow.
The song takes a look at the holiday season from the perspective of Harlem residents, and includes the typical themes of family, gifts, the Macy's Thanksgiving Day Parade, and last-minute shopping. It also touches on drugs and luxury, and includes some of West's most atypical sex references:
"The streets lit up, it feel like Christmas officially
While many of us might think of Christmas music as sappy, sentimental tracks laden with too many jingling bells and kids' choirs, West is actually tapping into a rich tradition of hip hop artists releasing holiday-themed music that brings different themes to the table.
Run-DMC is perhaps the most famous example. The group released its classic horn-filled ode to the holidays, "Christmas in Hollis," in 1987. Much like "Christmas In Harlem," the track references a New York City neighborhood — Hollis, Queens, where the duo is from.
Other major hip hop artists such as Ludacris, Snoop Lion, and Outkast have all tried their hand at Christmas tracks. While West and Run-DMC have left the strongest impressions with their takes on the holidays, the hip hop holiday tradition is as rich as the Christmas pudding you'll soon be devouring.