Ikea Was Caught Spying On Its Employees — Here's Why It's a Big Deal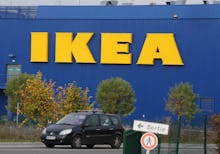 On Sunday, the New York Times reported that Ikea executives in France carried out private investigations on one of its employees, Virginie Paulin, when she took a year of paid medical absence. The executive suspected that Paulin was not as sick as she had said, and so fired her. This has caused public uproar in France about the individual's rights to privacy and the extent to which a firm has the right to know of employees' activities while on their payroll.
Paulin has since challenged her termination in court, and it was through this legal battle that court documents were leaked to the press, prompting a public outcry over the legality and ethics of the Ikea executives' practices.
It was discovered that the executives had provided a private detective with Paulin's Social Security details, personal cellphone number, bank account details, among her personal data. In emails between the executives and Jean-Pierre Fourès, a private detective in France, there were scanned images from Paulin's passport that revealed Moroccan entry and exit stamps that took place during her medical leave.
Fourès later confirmed that he had obtained Paulin's travel information by arranging for someone to pose as an employee of Royal Air Maroc.
Furthermore, it was discovered that the executives at Ikea had carried out personal investigations not only on Paulin, but on other employees and customers. According to Etienne Bataille, a lawyer for Jean-François Paris, Ikea's head of risk management, "There is no question that [Ikea's use of private investigations] was a widespread practice."
A regional court in Versailles is currently examining whether the executives broke French law by ordering private investigations of hundreds of people over the past 10 years.
This leads us to a bigger question: are the executives justified in conducting private investigations into Paulin's — as well as so many others' — personal lives? While the judges in Versailles decide the legality of the issue, let's think about the ethics.
The executives had the right to harbor suspicions of Paulin's year-long medical leave, especially while she remained on the company's payroll. However, where should the line be drawn between work and private affairs? On one hand, a firm has the right to know of an employee's activities while on the company's payroll (i.e. during working hours). But it does not have the right to know of an employee's activities during his or her medical leave. Yet Paulin's case, arguably, is a more ethically blurred one, as her medical leave spanned an entire year.
Whether or not the executives' suspicions of Paulin were correct — in other words, whether or not the end justified its means — Ikea has a lot of explaining to do about its personal investigations of its other employees revealed after the Paulin affair. Investigations into the personal lives of employees certainly breach an individual's liberty. As Sofiane Hakiki, one of Paulin's lawyers, said, "It is hard to conceive that this kind of thing happens in a democratic society like France ... This is not Soviet Russia."
The individual's right to liberty has been a pillar of the French Republic's values of Liberté, Egalité, Fraternité and the French's recent outrage NSA's activities is proof. Just two months ago, President François Hollande expressed "deep disapproval" over revelations that the NSA had been tapping phone calls in France for its own benefit, stating the behavior "unacceptable between friends and allies."
Since the affair, Ikea has publicly admitted that certain managers had taken actions "contrary to our values and ethics standards," and announced that it has included "respect of individual privacy" in its new code of conduct. Regardless, these questions must be addressed not only by employers and employees, but also by policymakers to determine an individual's right to privacy, especially as the digital age continues to redefine the lines.