Meet Vitali Klitschko, the Heavyweight Champion Who Could Be Ukraine's Next President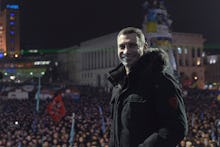 In the midst of the upheaval in Kiev's Maidan square, one man stands particularly tall. At 6'7," Vitali Klitschko towers over his supporters and opposition alike, and has emerged as a top contender for Ukraine's next presidential race. But hes no ordinary politician.
Klitschko has a perfect face for politics. With a strong jaw and a heavy brow, he's been charming Ukrainians for decades on television. He's spent his career dodging jabs and blows as the world heavyweight boxing champion, and a hero of Ukraine. His knockout rate is second only to Rocky Marciano's, and he's lost just two fights of 47. During Ukraine's 2004 Orange Revolution, his fight with Danny Williams was even broadcast in Maidan so that activists wouldn't have to miss it.
Last week, Klitschko set aside his champion belt to focus full-time on Ukraine and his political party, UDAR. His campaign doesn't shy away from the boxing puns, either. Calling for early elections from a platform in Maidan, Klitschko reached out to his opponent:
"I am challenging Yanukovych — he is my personal rival, and I am calling him to the ring."
The name of the Klitschko's party translates to "punch" in English. It is precisely this image of a forceful, proven fighter that appeals to protesters who see their government bending and caving to the will of Vladimir Putin.
So what is a heavyweight champ doing running for the Ukrainian presidency? He might look like just a jock at first glance, but he actually holds a Ph.D. in sports science, runs a public relations consulting firm with his brother (another world renowned boxer), and has headed the UDAR party for three years. He was even a boy scout growing up.
He entered the political ring in 2005 to serve as an adviser to the new president, Viktor Yushchenko. He ran twice for mayor of Kiev, campaigning unsuccessfully on a platform of anti-corruption and respect for rule of law. But lately his numbers have been rising, and he's become the most popular politician in the country. He promises to remove corrupt politicians and backward policies, and orient Ukraine towards western Europe. He envisions a capital "like London, like Paris, like New York."
Naturally, Klitschko has garnered considerable support from the West. Just last week, U.S. Senators John McCain (R-Ariz.) and Chris Murphy (D-Conn.) met with him to show their support for Ukraine's prospective bid to join the European Union. In 2008, Klitschko's friend Rudy Giuliani favorably likened him to Michael Bloomberg and Arnold Schwarzenegger, who also had little political experience when they came into office. Giuliani's management consulting firm, Giuliani Partners, was hired by Klitschko's campaign team during one of his runs for mayor.
He's not lacking in the star power department either. George Clooney reached out with a YouTube video expressing his admiration and encouragement on behalf of the entire West. His brother's fiancée, actress Hayden Panettiere, has also piped up and joined the protests in person.
Giving up his world title to give himself to the people of Ukraine is a sacrifice that hasn't gone unnoticed. His lack of experience plays to his advantage. Klitschko presents himself as an honest man who will not be bought or made to back down. And with his national recognition and support, he just may be the right person to bring the country together in unity, bridging the significant political and cultural divide between western and eastern Ukraine. Polls show 45% of the country to be pro-EU, and 41% undecided or against both European and Eurasian Unions. You wouldn't know it from the scene on Maidan square, but Ukraine is far from united. Vitali Klitschko may be the national hero that anyone can get behind.