What This Guy Said Went Viral. Here's Why.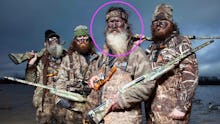 The news: Duck Dynasty star and patriarch Phil Robertson blew the internet up Wednesday, December 18, with comments he made in a GQ interview. The comments, which quickly drew accusations of homophobia and racism, earned Robertson a condemnation from GLAAD, and A&E (the channel which airs Duck Dynasty) put Robertson under an indefinite hiatus from filming.
I know what you're thinking – the guy from Duck Dynasty, homophobic? No way!
But indeed, yes way. It should come as no surprise that Robertson and his family are quite religious (according to the GQ interview, Robertson himself identifies as a bible-thumper), and in his interview Robertson grounds his, well, distasteful comments on homosexuality in the bible's idea of sin. 
On homosexuality, Robertson said: "It seems like, to me, a vagina – as a man – would be more desirable than a man's anus. That's just me. I'm just thinking: There's more there! She's got more to offer. I mean, come on, dudes! You know what I'm saying? But hey, sin: It's not logical, my man. It's just not logical."
So Robertson wishes to apply logic to Christianity, the Bible, sin, and the spectrum of human sexuality. He disparages homosexuality for being illogical. Right. You know what's illogical? Robertson's extrapolation, later in the interview: "Start with homosexual behavior and just morph out from there. Bestiality, sleeping around with this woman and that woman and that woman and those men."
Ah, there it is. In Robertson's mind, homosexuality inevitably leads to infidelity and bestiality. Because of course he's going to compare a same-sex relationship to having sex with an animal. Of course.
And then there are Robertson's comments on race. "I never, with my eyes, saw the mistreatment of any black person … Pre-entitlement, pre-welfare, you say: Were they happy? They were godly; they were happy," he said of race relations growing up in pre-Civil Rights era Louisiana.
Yea, before government welfare, everything was fine for black people in the South. What are they complaining about? Jim Crow? Hogwash, according to Phil Robertson.
Why this matters: Duck Dynasty is a big f*cking deal. To the tune of 14 million viewers each week, according to the Nielsen ratings. The series has spawned books that dominate the New York Times bestseller list. Like it or not, Robertson commands a huge audience. And when he uses that spotlight to promote, as GLAAD put it, "outdated stereotypes and blatant misinformation," it matters.
"Phil's decision to push vile and extreme stereotypes is a stain on A&E and his sponsors who need to re-examine their ties to someone with such public disdain for LGBT people and families," GLAAD said in an official statement on the interview. 
Why should we care what one guy says? Because not only does he have a stage with which to spread his influence, but also because a lot of people already agree with him. Gay marriage remains banned in Louisiana, and only a quarter of Louisianans approve of same-sex marriage. Robertson is not such an outlier as we might like him to be.
Robertson issued a non-apology, defending his religious beliefs and commitment to "teaching … that women and men are meant to be together."
So kudos to A&E for taking swift action and removing Robertson from the show for the time being. If they were smart – and had any courage whatsoever – the hiatus would be permanent. But we'll see.