15 Most Inspiring Feminist Beyonce Quotes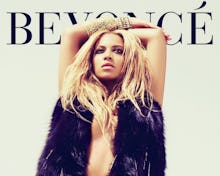 As Anderson Cooper once very accurately said, "It's Beyonce's world and we just live in it." With more than one million albums sold in less than a week, the queen of music has made her new self-entitled album the fastest selling record in iTunes history. It's been hailed as a feminist manifesto for black womanhood and has ignited a powerful debate about the star's brand of feminism. Because discussing whether someone is "feminist enough" is probably the most unfeminist thing one could do, I made a list of her most inspiring quotes so you can decide for yourself.
1. "Your self-worth is determined by you. You don't have to depend on someone telling you who you are."
2. "I'm over being a pop star. I don't wanna be a hot girl. I wanna be iconic."
3. "The most alluring thing a woman can have is confidence."
4. "I felt like it was time to set up my future, so I set a goal. My goal was independence."
5. "My message behind this album was finding the beauty in imperfection."
6. "We need to reshape our own perception of how we view ourselves. We have to step up as women and take the lead."
7. ''I am a woman and when I think, I must speak."
8. "Power's not given to you. You have to take it."
9. "Take all the rules away. How can we live if we don't change?"
10. "Perfection is a disease of a nation."
11. "I guess I am a modern-day feminist. I do believe in equality. Why do you have to choose what type of woman you are? Why do you have to label yourself anything?"
12. "When I'm not feeling my best I ask myself, 'What are you gonna do about it?' I use the negativity to fuel the transformation into a better me."
13. "I'm a workaholic and I don't believe in 'no.' If I'm not sleeping, nobody's sleeping."
14. "He will change diapers, of course he will. He is going to be a very hands-on father."
15. "The reality is: sometimes you lose. And you're never too good to lose. You're never too big to lose. You're never too smart to lose. It happens."
How has Beyoncé inspired you? Let me know on Twitter and Facebook and check out my conversation with Anna Holmes and Krystal Ball on MSNBC.