5 Popular Works Of Art That Were Ripped Off From Other Artists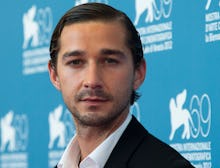 Recently, Shia LaBeouf has been mired in a plagiarism scandal. As Buzzfeed reported, almost as soon as the actor put his new short film, HowardCantour.com, online, people immediately began pointing out the almost word for word ripoffs from the comic Justin M. Daimiano, by artist Daniel Clowes.
LaBeouf launched into a series of apologies on Twitter, but he defended himself by saying, "Copying isn't particularly creative work. Being inspired by someone else's idea to produce something new and different IS creative work." He has a point.
The internet has made it easy for all voices to be heard — especially those that wouldn't typically find a large audience. This surfacing of many works that, once, would have been overlooked has shown us all that ideas are rarely entirely original. LaBeouf may be too close for comfort, but here are challenging examples from artists who have recently been in his position.
1. Beyoncé ripped off Anne Teresa de Keersmaeker
Belgian choreographer Anne Teresa De Keersmaeker has accused the singer of stealing both dance moves, constume, and set elements from her work on "Achterland" and "Rosas Danst Rosas." Comparing the two vidoes side by side, they do look remarkably similar.
However, this may again be a case of inspiration rather than direct lifting. The choreography and overall creative design of "Rosas Danst Rosas" has been a classic in the dance world ever since it debuted over 25 years ago, and Beyoncé's style is recognizable as her own.
2. Robin Thicke ripped off Martin Gaye
Robin Thicke is currently fighting a lawsuit against the heirs of Motown legend Marvin Gaye. The lawsuit claims that the huge summer hit "Blurred Lines" copies from Gaye's songs "Got to Give It Up" among others. Thicke, however, has openly admitted that he and Pharrell were inspired by old, Motown 70s music, including Gaye's work. Whether it's a direct lift remains to be determined by a judge. 
3. One Direction ripped off Def Leppard
If you're the only person in the world who likes One Direction and Def Leppard, then perhaps you've noticed that One Direction's new hit "Midnight Memories" sounds like the rock classic "Pour Some Sugar on Me" by Def Leppard.
You wouldn't be alone in that opinion. As reported by Alter the Press, the British pop group is coming under fire for potentially lifting too much from that song (a lawsuit may be pending). This isn't the first time One Direction has had to deal with plagiarism accusations. The group faced similar blame when their hit, "Best Song Ever," sounded a little too much like The Who's "Baba O'Riley," which actually is the best song ever.
4. Tyler Perry ripped off Terri McDonald
Tyler Perry has come under fire by author Terri McDonald for lifting the plot of his film Good Deeds from McDonald's book Bad Apples Can Be Good Fruit.
According to The National Post, McDonald claims she sent a copy of her book to Tyler Perry before production of Good Deeds even started. She is asking for $250,000 in damages for not being credited in the film, which lists Perry as the only writer (as well as director and producer). 
5. Chanel ripped off Jeremy Scott
First designer Jeremy Scott got into trouble for purportedly using designs from the company Santa Cruz Skateboards for his fall 2013 show. Now, it looks like Chanel may have used Scott's patterns from his 2012 line as a very, erm, direct inspiration for their Spring 2014 designs.
The fashion world is prone to accusations such as these — especially since trends and designs follow so closely on each other from season to season. The designs in this case, though, do look more similar than they do different. To those with a fashionably uncultured eye like myself, they may even look exactly the same.