Flash Mob Brings Christmas Cheer in the Most Unexpectedly Beautiful Way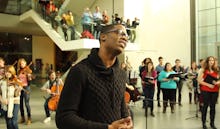 The Museum of Fine Arts in Boston recently played host to an unexpected concert. On December 14th, students from Berklee College of Music joined with Bostonian musicians in the museum's Shapiro Courtyard for a stunning rendition of the traditional carol O Holy Night. The stirring impromptu performance featured a full choir, strings section, and nearly 60 performers.
The video was released on Wednesday by Loft Sessions, the Berklee music group behind the performance. Producers Evan Chapman and Josh Knowles thought of the idea while trying to come up with ways to share Loft Sessions' music beyond Berklee College. The video has now been viewed over 100,000 times.
Chapman, a soon-to-be Berklee graduate, arranged the music himself. The choir had two rehearsals on its own before joining the rest of the group, which rehearsed together only once. Though this was the first public performance of Loft Sessions, soloist Mark Joseph maintained a calm and easygoing attitude throughout the song.
The holiday season has long been marked by charity, hospitality, and good will, qualities that this unconventional flash mob sought to spread among museum visitors. Lasting just six minutes, the remarkable performance easily lifted the spirits of those who were lucky enough to see it at the MFA. Now available to thousands of people online, the video is sure to spread Christmas cheer far and wide.