Dennis Rodman to Coach North Korean Basketball Team For Kim Jong-un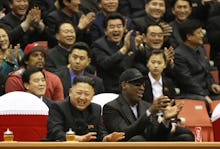 The news: Dennis Rodman is heading off to North Korea to be with his friend-for-life Kim Jong-un, where he will coach the North Korean national basketball team for five days.
Rodman insists his visit isn't political, and hopes to organize a team of retired NBA players to play a game against the North Koreans in early January to mark Kim's birthday.
Rodman might be in for a few surprises since he last visited North Korea in September. During his last visit, he met Kim and his wife, Ri Sol-Ju, as well as met his infant daughter, Ju-ae. Since that visit, rumor have leaked that Kim had nine members of her former orchestra executed for producing pornographic videos. And more recently, Kim ordered his uncle and former mentor Jang Song Thaek executed and erased from history and tens of thousands of online documents.
"I mean, whatever his uncle has done, and whoever's done anything in North Korea, I have no control over that," Rodman told Reuters. "I mean, these things have been going on for years and years and years."
"I'm just going over there to do a basketball game and have some fun."
Dennis had better do a good job. The coach who failed North Korea at the 2010 World Cup, Kim Jong-hun, was reportedly sentenced to hard labor after their team conceded the most goals at the tournament. The rest of the squad was given "harsh ideological criticism," which may or may not mean they were pelted with books.
And North Koreans have reportedly twisted the game in their own image and according to Kim Jong-un's whims; Chinese media says they even have their own scoring system, with three points for a dunk, four points for a three-pointer that swishes in without hitting the rim, and an actually good rule, losing a point for missing a free-throw.