15 Photos Showing How Christmas is Celebrated Around the World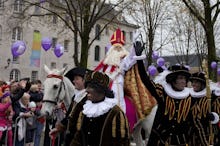 In America, we typically think of Christmas as a celebration of snow, Santa, warm fires, and a beautifully decorated tree. But the traditions look different, depending on where you are in the world.
While some prefer eggnog, others prefer a pint of Guinness; while some call him Santa Claus, others know him as 'Sinterklaas.' Here's a look at 15 unique ways in which Christmas is celebrated around the world:
1. Japan
Forget Santa Claus!
When it comes to Christmas in Japan, Colonel Sanders wears the red suit. Although Christmas is not a national holiday, Kentucky Fried Chicken is the Christmas meal of choice on the big day, thanks to the "Kurisumasu ni wa kentakkii!" (Kentucky for Christmas) campaign back in 1974. The fast-food chain is so popular during the holiday season that they have a special Christmas countdown on their website and recommend customers to place their orders two months in advance!
2. Ireland
There's nothing like the Christmas season to bring out Irish festivities, reunions, celebrations at midnight mass, and week-long partying. One of Ireland's many traditions is placing a lighted candle in the window on Christmas Eve to welcome Mary and Joseph in their biblical search for an inn.
And instead of a glass of milk and cookies, Irish children leave mince pies and a bottle of Guinness as a snack for Santa. 
3. The Netherlands
Children in Amsterdam await the arrival of Sinterklaas, the Dutch version of Santa Claus, on St. Nicholas Day (Dec. 6). Dressed in red robes and a bishop's hat, Sinterklaas is often accompanied by his helper "Zwarte Piet," or "Black Pete."
Although some criticize Black Pete's "blackface" imagery as a racist caricature of an African slave, others say his character is steeped in Dutch tradition and that he is just soot-stained from dropping down chimneys to deliver presents for children.
Bonus: Listen to writer David Sedaris read his hilarious essay about the Dutch version of Christmas: 
4. Russia
Following the Julian calendar for religious celebrations, the Russian Orthodox Church celebrates Christmas on Jan. 7 after about 40 days of fasting. On Christmas Eve, food traditions include a 12-course meal — with each meal representing one of the apostles.
5. Lebanon
About two weeks before Christmas in Lebanon, people plant seeds of beans, lentils, and chickpeas in cotton wool. After watering the seeds every day until Christmas, the shoots are then placed around the manger in nativity scenes or under the Christmas tree to signify the birth of Christ.
People visit friends and relatives on Christmas morning and follow with lunch — usually chicken, rice, and kibbeh — at the grandparents' or the eldest son's home.
6. Bethlehem, West Bank
As the birthplace of Jesus Christ, Bethlehem is a special destination to observe and celebrate Christmas. Prayer services at Bethlehem's Church of the Nativity, believed to be the birthplace of Christ, are held by the Catholic, Protestant, Greek Orthodox, Armenian, and Syrian churches on different dates in different parts of the Church. The Church's midnight Mass is also broadcast worldwide.
7. Ukraine
During the Christmas season in Ukraine, people usually hide a spider inside their Christmas tree (or even decorate their tree with spider webs).The tradition stems from an old legend about a widow who was too poor to decorate a tree. On Christmas morning, her family discovered that a spider spun its web around the tree, and that the threads had turned to silver and gold. Today, the person who finds the hidden spider is to have good luck.
8. Estonia
If you think going home and spending Christmas with your family is too close for comfort, think again!
In Estonia, families bond, swap stories, and drink together in a sauna on Christmas Eve after prepping the house for the holiday festivities. For some, relaxing in a steam bath with relatives can be incredibly relaxing; for others, it's downright horrifying.
9. Mexico
The main Christmas event in Mexico, Las Posadas, is celebrated nine nights before Christmas — representing the nine months of gestation — with celebrants going from house to house carrying images of Joseph and Mary and singing Christmas carols and prayers, in a reenactment of the couple's search for shelter.
On Christmas day, children break open a decorated piñata filled with delicious goodies like candy, tangerines, oranges, and nuts, while blindfolded. 
10. Sweden
The Christmas season in Sweden begins on Dec. 13 with St. Lucia's Day, celebrating the patron saint of light.
Traditionally, the eldest daughter of every household dresses in a long white dress with a red sash and a crown of candles on her head.Singing St. Lucia songs, she then serves steaming coffee, saffron buns, and ginger cookies before dawn to each member of the family. There is also a procession for St. Lucia accompanied by attendants dressed in white and tinsel sashes.
11. The Philippines
While Christmas is usually a one-day celebration in most countries, the Philippines, the largest Roman Catholic country in Asia, is known to have one of the longest Christmas celebrations in the world.
Even before December arrives, Christmas songs are heard in malls, gorgeous light displays are lit, and festivals are held across the Asian island nation from September until January. 
12. Austria
While jolly ol' Saint Nick is widely known in most countries during the holiday season, his scary companion, Krampus, has his own holiday called Krampusnacht in Austria.
Dressed as the demon-like creature during the Yule season, participants (often fueled by alcohol) walk the streets and accompany St. Nicholas and angels to reward children who have been good and punish the naughty. 
13. Italy
In Italy, Santa doesn't usually distribute presents to children for Christmas. That's the responsibility of a kindly old witch called La Befana, who distributes presents on the eve of the Epiphany (January 5th).
According to legend, the three kings asked La Befana for directions on the way to see the baby Jesus and invited her to join them on their journey — a request she refused and later regretted. Some variations of the legend say she is still chasing after Jesus and the wise men, leaving gifts on her way, while others say she found the child, who granted her the power to distribute gifts to children every year. 
14. Australia
Since Christmas in Australia comes in the beginning of the summer, most people spend the holiday with family and friends at the beach, or play in pools to beat the heat.
In place of a traditional hot roast, Australians opt for seafood, cold ham, BBQ, and cold salads instead. Christmas plum pudding is usually served with cold custard or ice cream.
15. India
Although Christians make up just 2 percent of the population, given the fact that there are more than a billion people in India, that's still a lot of people celebrating the holiday season. As with other countries, midnight mass is very important to many, as is exchanging platters of traditional, homemade Christmas sweets like plum cake, jujups, and kulkuls with family, friends, and neighbors on Christmas day.
Celebrated as a national holiday, Christmas mass is attended by people of all faiths followed by night-long festivities with copious amounts of food.