Hundreds Of High School Students Stage a Huge Sit-In After Their Gay Vice Principal Was Fired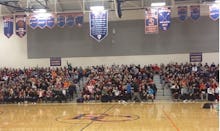 The story of a high school vice principal that lost his job has gone viral.
Mark Zmuda, former vice principal at Eastside Catholic High School in Sammamish, Washington, was forced to resign after school officials learned he had married his long-time boyfriend over the summer. According to the school, faculty must follow the rules of the Catholic Church. And so, when it came out that Zmuda had married his male partner, he was forced to vacate his position.
But his students aren't letting the story end there. Support spread quickly among the student body — thanks, in large part, to social media — and protests were planned. Yesterday, December 19, Eastside students held sit-ins and rallies, demanding Zmuda be reinstated.
They gathered in the cafeteria …
… in the gym …
… and even outside:
Pretty soon, support for Zmuda was no longer contained within Eastside High School. After the story was posted to Reddit, things really took off. Protests spread to other area Catholic high schools. A petition on Change.org has nearly 10,000 signatures as of Friday morning.
This is a tricky matter. Yes, same-sex marriage is legal in the state of Washington. But Eastside is a private high school, and according to school officials, the decision to let Zmuda go came from the Archdiocese of Seattle.
Yet students don't seem willing to let this go down without a fight. "We think the rule over gay marriage is totally unfair," said freshman Sophia Cerino. 
Editor's note: A previous version of this story incorrectly identified Mark Zmuda as the principal at Eastside Catholic High School. He is the now-former vice principal.