Watch John Oliver's Tearful 'Daily Show' Send Off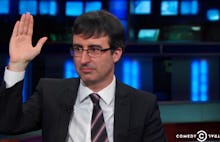 Comedian John Oliver celebrated his last night on The Daily Show on Thursday — and his sendoff was filled with British insults, nostalgic montages, and fittingly, some epic trolling.
Oliver was with the show for over seven years, and has been one of the most popular correspondents the show has ever seen. Though his stint as TDS host this summer was widely praised and many considered him the "heir apparent" to current host Jon Stewart, the Brit decided to leave and start his own topical show on HBO.
But even though he is one of the show's main writers, Oliver did not know that Stewart was going to devote nearly a third of the episode to pay tribute to him.
The Daily Show
During the cold open, Stewart brought up the ongoing phone-hacking scandal in Britain, and asked Oliver, the "senior royal correspondent," to comment. But seconds into the bit, Stewart informed him that it was all a ruse.
"There's only one British royal that I care about tonight, and his name is Prince John Oliver," said Stewart, before launching into a retrospective of Oliver's work.
The show put together three different montages, looking back at a few of Oliver's best characters: the over-the-top Brit, the vulgar maniac, and best of all, the befuddled straight man going head-to-head with some the most ridiculous politicians of our time.
While the montages produced plenty of laughs, the audience dissolved into "awws" and gave a standing ovation as Stewart embraced the tearful Oliver afterwards. Even a dance off to Mystikal's "Danger" couldn't help the audience forget that the show was losing one of its finest.
Danger! Now everyone is crying. Godspeed, Prince John Oliver. We will miss you.