How A Cappella Took Over the Music World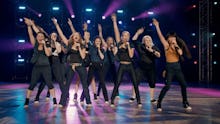 There is something inherently lame about a cappella singing. This may be because of its roots in barbershop or the high technical barrier required for entry. Or maybe it's the fact that a group of people standing around mimicking instruments is kind of ridiculous. How could voices ever stand up to actual instruments, especially in the face of an era benchmarked by electronic sound? That said, what a cappella groups can do is undeniably distinct. When done well, a cappella definitely does stand up. As we move through the 2010s a cappella is seeing its moment in the sun. Popular culture is finally catching up to what so many fans already knew: a cappella is worthy of our iPods, our downloads, our views. If it weren't for the internet and viral videos, the genre would not be nearly as successful.
Like many modern trends, the internet played a huge role in the birth of a cappella's popularity. The form was popular on college campuses for decades, but the web allowed for the rapid spread of ideas, technique and music. Suddenly schools across the country — and the world — could see what other talented students were doing and replicate it. Portals like YouTube and iTunes became indispensable for the dissemination of a cappella. It was only a matter of time until the mainstream media took notice and saw dollar signs.
NBC premiered The Sing-Off, a limited-run reality competition series, in December of 2009. The show pitted 10 a cappella groups ranging from high school to professional in a head-to-head battle for the title of the ultimate team. A cappella was getting its first shot at major exposure. The show constantly reminded viewers the groups were only doing this with their voices, and the public responded by showing up in big numbers.
The following year, Glee brought us the Warblers, an all male a cappella show choir group, whose songs were powered by the acclaimed real-life college collective, the Tufts Beelzebubs. Glee has since depreciated in its cultural relevancy, but at the time it was massively influential. Having this showcase of a cappella was a clear statement that the impressive genre was on the cutting edge of youth culture — and the numbers proved it. Nearly 11 million viewers watched the Warblers' first appearance on Glee and the Darren Criss-led vocal version of "Teenage Dream" became the show's first song to top the Billboard digital chart.
A cappella's explosion into mainstream culture was on the upswing when Pitch Perfect premiered in 2012. The film focused on an underdog female group and their unlikely savior (Anna Kendrick). It didn't poke fun at the genre, but instead embraced it for its cheesy, inspiring and difficult nature. The film's undeniable soundtrack showcased the best a cappella has to offer with anthemic, emotional, layered tracks. Having them performed by hot up-and-coming stars, Kendrick, Skylar Astin, Adam DeVine, Anna Camp and Brittany Snow, didn't hurt either.
A movie about a cappella was a gamble for Universal, but like NBC who tried it before them, it paid off. The film saw positive reviews, shockingly high box office numbers and a surprise top-10 single with Kendrick's "Cups." Pitch Perfect introduced a cappella to a whole new group of people — and the response is proof that it had a place in front of mass audiences.
But if there's one major indication that a cappella has mainstream value it's Pentatonix. The 2011 winners of The Sing Off have made a name for themselves not only on television, but more importantly, online. Their videos consistently reach tens of millions of views and their albums have skyrocketed on the charts. Pentatonix have taken the form to unprecedented heights. Their combination of tight harmonies and electronic-influenced arrangements turned out to be the secret formula to connecting with modern listeners. Their clever and timely medleys are perfectly catered to the internet generation, but aren't kitschy or gimmicky. In a world of heavily manufactured music, they've found a pure yet relevant way into modern ears.
A cappella wasn't invented in 2009. Fans have been touting its value for decades, but modern technology, film and television finally made it known. Just getting placement on TV and movies though would not have been enough. Thankfully, the pure awesomeness of the genre was there to back it up. There's a lot to mock with a cappella, but its rising importance to our generation's culture really can't be denied.