North Korea's Latest Threat Was Sent to South Korea ... By Fax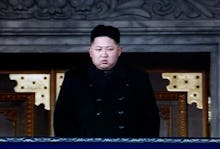 The news: On Friday, a South Korean government minister reported the latest act of menace on the part of North Korean dictator/ great leader/ professional gazer Kim Jong-un, who, in a decidedly retro move, opted to threaten his neighbor by fax.
In his message, Kim voiced disapproval of rallies that graced the South Korean capital of Seoul this past Tuesday, which happens to be the birthday of Kim's father, the late North Korean leader Kim Jong-il, as well as a North Korean national holiday.
The younger Kim let it be known that he would "sternly react" to any perceived provocations from the south, such as the burning of headshots in effigy. He also reserved the right to do so "without notice," which stands to reason, since it's clearly difficult for him to get in touch with his fellow world leaders.
The background: Kim's message may sound like the making of an international incident, but taken in context, it's unlikely that the fax is the harbinger of an imminent attack.
North Korea's near-daily threats have previously included bluster about drowning South Korea in "a sea of fire" and an "ocean of destruction." Perhaps more concretely, the hermit kingdom has gone out of its way to assert its missile capabilities, and discussed preemptive nuclear strikes against the United States.
North Korea's language is certainly upsetting, as are the occasional skirmishes that have taken place since the Korean War ended for everyone but North Korea in 1953. However, such incidents, while tragic, aren't quite on the scale of the Kims' rhetoric. In 1976, for instance, two U.S. Army officers were slain for the trivial act of chopping down a tree in Korea's demilitarized zone. And in 2010, the north unexpectedly torpedoed a South Korean naval vessel, killing nearly 50 soldiers.
Despite the fatalities, South Korea has learned to take the Kims' grandstanding in stride. Given that American newspapers are often filled with with maps showing missile trajectories and headlines repeating North Korea's latest hyperbolic threat, it would be easy to believe that South Koreans live in a state of siege. However, that's simply not the case, as Canadian cultural emissaries Simon and Martina Stawski explain the in the video below.
The takeaway: With any luck, Dennis Rodman's latest visit to North Korea should keep Kim away from the fax machine for the near future, and distract him from doing anything rash. The two should be busy enough planning a basketball exhibition game scheduled for January 8, in which former NBA players will face off against a Rodman-trained North Korean team in celebration of Kim's birthday.
Failing that, and given that the north clearly has the technology, it might be wise for Kim to forgo needless escalation and resort to a tactic that's proved successful for other international trolls: sending a slew of black faxes to his South Korean counterparts.