Yet Another State Has Gay Marriage Ban Struck Down As Unconstitutional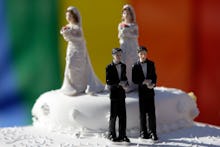 The news: On Friday night, a federal judge struck down Utah's ban on same-sex marriage.  
Judge Robert Shelby ruled that the ban violated the Constitution: "The Constitution protects the Plaintiffs' fundamental rights, which include the right to marry and the right to have that marriage recognized by their government."
Similarly, the Constitution also "protects the choice of one's partner for all citizens, regardless of sexual identity."
If the decision is upheld on appeal, it would be a significant win for same-sex marriage advocates.
Utah's lawsuit was brought by three different gay and lesbian couples.
The background: In Utah, attorneys for the state argued that the law protected the state's interest in "responsible procreation" and the "optimal mode of child-rearing." Fortunately, the judge recognized the constitutional right to marriage and compounded the notion of marriage as a civil right. There are several similar cases currently pending before state legislatures, but this recent victory in Utah is seen as symbolic because of the strong opposition the Church Of Latter Day Saints has to gay marriage and their strong influence in the state.
 In 2003, Massachusetts was the first state to legalize same-sex marriage in the U.S. — since then, 17 states (and the District of Columbia) have signed declarations or passed laws allowing the practice. The recent news from Utah marks another important step in the legalization of what should be considered a basic human right. 
Editor's note: A previous version of this story incorrectly implied that Utah had struck down the same-sex marriage ban. It was a federal judge who made that decision.