'Saturday Night Live' Recap: Jimmy Fallon and Justin Timberlake's 5 Best Sketches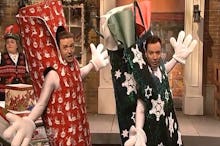 Who isn't a sucker for a really good holiday episode? With the exception of the first season of Ally McBeal, the little bit of extra effort around the holidays can make for uplifting moments even in otherwise dreary seasons. Last night's SNL went above and beyond everything that came before it. Featuring some insane guests like Madonna, Paul McCartney, Michael Bloomberg, and Barry Gibb, on top of the already excellent combination of Justin Timberlake and Jimmy Fallon, it would have been tough to fail.
The whole show was as much fun as being a six-year-old on Christmas morning, but here are the five sketches that rose above the rest.
1. Weekend Update: 'Billie Jean King Goes to Sochi'
Kate MacKinnon rocks, and this is about as edgy and political as SNL tends to go. The sketch stands out for its strong point of view and deft handling of middle-aged lesbian jokes.
2. Cold Open: 'Wrappinville'
This was a high-energy and super fun way to open the show, with Timberlake and Fallon [w]rapping in hilarious costumes. While some of the jokes might hit a little close to the less-than-fresh Blue Collar comedy deck sketch, the songs were giggle-worthy, and Aidy Bryant provided a nice juxtaposition to their silliness.
3. 'Baby, It's Cold Outside'
It is cold outside, but this made me warm inside. (I'm so sorry I just wrote that, but I stand by it.)
4. '(Do It On My) Twin Bed'
This was another sketch that provided an overall sense of joy. Its jokes about family and the holidays were on the money (I love the little thing with Jean), and the situation is both relatable and hilarious. It really shows how much of a difference having Timberlake around makes for songwriting quality on the show.
5. 'Celebrity Feud'
Last but certainly not least, the jumble of characters in the sketch was quirky and off the beaten track. Game show sketches often feel a bit tired, but this — this was fun. You can even spot the one time Fallon really cracked all night, and Brooks Whelan playing... himself. Enjoy!