5 Photos That Show Europe's Neo-Nazi Problem is Alive and Well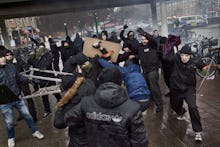 Activism is firmly woven into the fabric of society; rearing its head in both dark and bright corners of the globe.
On Sunday, thousands of protesters rallied against racism in Sweden's capital, Stockholm. The protest came after a neo-Nazi attack on an anti-racism rally in Karrtorp — a nearby suburb plagued with consistent public displays of racism and xenophobia.
Sweden isn't alone in battling a rise in neo-Nazis. In fact, far right parties have been bubbling up across Europe, bringing along with them a disturbing brand of fascism that has sparked debate and fear across the region.
Here are five incidents that prove neo-Nazis are alive and well. 
1. The Swedish Resistance Movement Clashes With Police
Sweden, a country that is celebrated for its inclusive public policy, has seen a recent uptick in group "action" and recruitment of neo-Nazis. The Swedish Resistance Movement is considered one of the most active and violent groups in the country, centering its aggression on the Stockholm metropolitan area where activities have culminated in murder and a fire fight with police. The group is notorious for marking public surfaces with Swastikas, and joins several other groups in becoming more active and wreaking havoc on citizens and residents deemed "different," or non-Aryan. 
2. Right-Wing Extremist Becomes Regional Governor in Slovakia
Former schoolteacher and current leader of the super right-wing Our Slovakia Party recently won 55.5% of the popular vote to become regional bovernor of Slovakia's Banska Bystrica area. Marian Kotleba has a history of neo-Nazi leanings and community leadership, and has led several marches against tSlovakia's Roma minority group. Kotleba also considers NATO a terrorist organization and is adamantly nationalist.
3. Neo-Nazis Threaten Belgian Royal Family
Belgium is home to many international organizations and is the nerve center of the European Union. As a result, the country houses residents from every corner of the world. Sadly, this does not sit well with everyone, as one sent a letter to King Phillipe earlier this month threatening to kill his daughter because he does not approve of the melting pot Belgium has become. The sender blamed King Phillipe for allowing too many immigrants and foreigners into Belgium. The xenophobic letter was written in German and published in a French newspaper, which added to its ambiguity. Needless to say, King Phillippe's daughter Elisabeth — also the heir apparent to the Belgian throne — has been under tighter security than usual as authorities continue their investigation to find the letter's author.
4. Germany Tries to Ban Neo-Nazi Party, Again
A political organization called the National Democratic Party of Germany (NDP) has been accused of damaging democracy. Seen by many as sharing ideals with Hitler's original party, the NDP is determined to deport immigrants and decrease the number of foreigners coming who enter Germany. The NDP received less than 1% of votes in many states in Germany, but has gained a reputation for associating with violent sympathizers.
5. Neo-Nazis Protest State-Funded Mosque in Greece
Greece has been plagued by citizen riots displaying the people's distaste for public officials. Recently, the country began construction on its first state-owned Mosque in Athens, which illustrates its efforts to open its borders attract foreign investment. Determined to uphold nationalist and neo-Nazi principles, a group of approximately 700 members and supporters of the Golden Dawn Party spoke against the mosque's construction yelling, "Greece belongs to the Greeks."