The Best Mixtapes Of 2013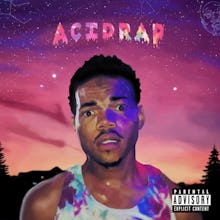 Once upon a time, mixtapes were a way for young rappers to prove their lyrical skill over simple beats. Now, they've become the most exciting releases in hip-hop.
The mixtape has come a long way since its backpack slangin' bootleg roots. Now, mixtapes are sounding more like complete, fleshed-out albums — and incredibly innovative ones at that. The sound quality and artistry of this year's Top 5 Rap Albums and this year's Top 5 Mixtapes are essentially equal. The only differences: mixtapes are free, and artists can do whatever they want on them.
Artists can stretch out a bit more on a mixtape and take more creative risks because they don't have to worry about selling the record or getting it on the radio. They just have to make bold music. Here are the five mixtapes from 2013 that are changing the game.
1. Chance The Rapper – 'Acid Raps'
Chance The Rapper's breakout release is a psychedelic rainbow of impeccably crafted sounds. It hits the ground running with some bouncy footwork on "Good Ass Intro," transitions through a series of deep contemplative grooves ("Acid Rain"), and slows down for some classic songs about getting high ("Smoke Again" and "NaNa"). Each beat draws a unique flow from Chance The Rapper, and the extreme flexibility he exhibits hints at a boundless creative potential to come.
The weight of some of Chance The Rapper's ideas takes his lines way outside the realm of traditional hip-hop quotables and into the realm of literature. On "Paranoid," (the second half of "Pusha Man"), he addresses the media, the police, white America, and anyone who looks down on Chicago as a savage, war-torn place. He raps: "I know you scared, you should ask us if we scared, too / If you was there, then we just knew you'd care, too." This line should appear in textbooks when Chicago's inner city violence is studied by future generations — placed alongside Chief Keef's famous ad-lib "Bang Bang" for contrast.
You can download the tape here.
2. Killer Mike & El-P – 'Run The Jewels'
Killer Mike and El-P are modern hip-hop's greatest tag team. Listeners can feel the chemistry between the two. Killer Mike comes with the brutal, honest simplicity; El-P brings the obscure poetry and harrowing beats. Their cooperation turns their two voices into a single daunting force that few can out-rap. The album is simultaneously inspiring and punishing, as all good hip-hop should be. Lines alternate between merciless beat-downs ("The beat breaks and your teeth break / Keep your canines embedded in my knuckles as a keepsake") and compassionate build-up ("Don't fret little man, don't cry / They can never take the energy inside you were born with / Knowing that, understand you could never be poor / You already won the war, you were born rich"). All their lines stand out like diamonds in the rough, sinister El-P beatscapes.
The album even has a Christmas song: "A Christmas F**king Miracle," from which both the above quotes were pulled.
You can download the record here.
3. Death Grips – 'Government Plates'
Government Plates is the album Yeezus wishes it had the balls to be. It is a volatile mixture of punk, rap, and industrial, with only a sprinkling of pleasurable, ambient soundscapes that create terrifying moments of contrast — like "Birds," which moves between jarring barrages of distorted vocals and peaceful synth lines.
The free release format fits Death Grips' anarchic attitudes perfectly. They leaked their previous album, No Love Deep Web (Warning: NSFW album cover / Spoiler: it's a dick) last October because the label refused to set a 2012 release date. Government Plates hit the internet in a similar surprise fashion. The mixtape form only extends their go-it-alone mentality. 
You can download it here.
4. Action Bronson – 'Blue Chips 2'
Action Bronson raps his fat ass off on Blue Chips 2, and though many of his verses are very formulaic, each one is entertaining as hell. Every verse has at least four of the following items:
1) A gourmet food reference: calamari, boudin blanc, eggs, Rothko.
2) An insanely difficult gymnastic move or feat of strength, as in "bare-handed choke a hippopotamus."
3) A beautiful exotic car: "Driving something absurd, something you never seen, gold and forest green."
4) Whores, prostitutes, hipster chicks, or fellatio.
5) Lots of good green.
The beats on the album are also more like the ones you'd find on a traditional mixtape. They're more sample-based than most and some are jacked straight from the radio, as was the common practice in the late '80s/early '90s. On "Contemporary Man," Bronson rhymes over five '80s hits including "Sledgehammer" by Peter Gabriel, "Jack and Diane" by John Mellencamp, and "Simple as That" by Huey Lewis and The News. 
You can download the record here.
5. Vic Mensa – 'Innanetape'
It is official: Chicago wins 2013. Chi-town rappers Kanye West, Chance The Rapper, and Vic Mensa all put out career-defining albums, once again revolutionizing the sounds coming out of that city on the brink.
Mensa has a formidable intellect (as the name would suggest) and a real ear for designing sounds to reflect the moods in his verses. He can sing and rap as flexibly as Chance The Rapper. Mensa states his goals on "Hollywood LA": "I was 16 with a mixtape / Now I'm 19 with a mixtape / Tryna be 21 with a million dollars." The boy's sound is fresh and he's got charisma — he also has a shot at those millions.
You can download his mixtape here.