What's Beyonce Giving For Christmas This Year? $37,500 in Walmart Gift Cards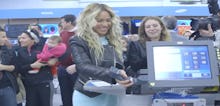 When Target decided not to stock and sell Beyoncé after it was exclusively released on iTunes (and sold a handy 800,000 copies in three days), Amazon.com soon  followed suit.
But Queen Bey is, per usual, undeterred.
To continue promoting her new album, Beyoncé paid a suprise visit to a Massachusetts Walmart in support the retailer's decision to carry physical copies of Beyoncé. Not only did Beyoncé interact with a few lucky fans and do a bit of shopping of her own (which included buying her own album), but also she gave 750 customers $50 Walmart gift cards, totalling $37,500. She really is the gift that keeps on giving.
It is now clear that Queen Bey is winning pop music. Her most recent musical and visual phenomenon, Beyoncé, marks Mrs. Carter's fifth time debuting atop the Billboard 200. It has made her the first female artist to hit No. 1 with her first five albums. But Beyoncé's ability to set records with Beyoncé is a result of more than the album's quality. She's also an expert at marketing herself, her brand, and her music.
Appearing at malls and stores used to be a common, albeit exciting, way for pop stars to promote their work in the past, but such an act from a star like Beyoncé is unheard of. Especially since the Walmart she went to was in Tewksbury, MA. Not exactly a major destination.
Consider her Walmart appearance in conjunction with these other facts: Beyoncé was released in the early hours of the morning without any prior warning; it was initially only available to purchase online in its entirety; each of the 14 songs had an accompanying music video (there were three bonus videos as well) making it a "visual album"; and, despite the fact that the album features her husband Jay-Z and former Destiny's Child band mates Kelly Rowland and Michelle Williams, no one had any idea it was coming. 
"I really, really wanted to surprise people and for them to hear the art and it not be about the hype and promotion," Beyoncé said at her album release party in New York.
She may not have wanted this album to be about hype, but instead of having months of hype preceding the record's release, Beyoncé  conjured a veritable super storm just hours after the album's release. It was like three months of hype compressed into three days.
In the words of her husband, "That shit cray."