Who's Really to Blame for the 'Duck Dynasty' Controversy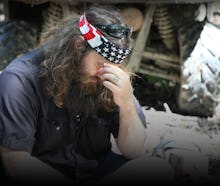 The latest reality TV star to make headlines is Duck Dynasty's Phil Robertson for airing his thoughts on homosexuality in a recent interview with GQ. In response to his inflammatory remarks, A&E has "indefinitely" suspended Robertson from the show. While the scandal has dominated entertainment news over the past week, it's A&E's reaction to Robertson's comments — and not the statement itself — that should come as a surprise to the public: The controversy is a wake up call to reality TV executives about how they define and seek out entertaining content.
Duck Dynasty chronicles the life of Phil Robertson and his Louisiana family, who became wealthy from the business of duck hunting. Phil's recent comments on religion and sexuality thrust him and his family into the national spotlight. He told GQ's Drew Magary that "everything is blurred on what's right and what's wrong" in America. "Start with homosexual behavior and just morph out from there — bestiality, sleeping around with this woman and that woman and that woman and those men." He then paraphrased a biblical statement to back up his opinion: "Don't be deceived. Neither the adulterers, the idolaters, the male prostitutes, the homosexual offenders, the greedy, the drunkards, the slanderers, the swindlers — they won't inherit the kingdom of God. Don't deceive yourself. It's not right."
His statement isn't shocking — at all. Robertson came of age in rural, Jim Crow Louisiana. Before he found God and his duck company in the early 70s, he was an alcoholic who had kicked his wife and three children out of the house. When A&E found him 40 years later, he agreed to star in a reality show on the condition that he wouldn't compromise three things: his faith, family members, and duck season.
His self-portrayal as a Southern Christian redneck is precisely why A&E was able to make him a star, and his comments were a long time coming. A&E executives sought the Robertson family out because they were products of their environment. TV executives no doubt saw something entertaining in their antics, as is often the case with reality shows; theyfeature insular groups of people whose extremity makes them fun to watch, but which also means that many of their comments will offend a good majority of the American public.
A&E executives exhibited a lack of foresight in their decision to air Duck Dynasty. We should be focusing less on Robertson's offensive comments and more on the fact that reality TV executives, in their senseless search for extreme entertainment, gave this man a platform in the first place.