10 Completely Sexist Ad Campaigns You'll See This Christmas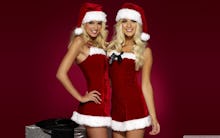 Prior to next year's Super Bowl, The Representation Project will release its #NotBuyingIt mobile app. Its initial use will be during the game to shame sexist marketing and invite brands to promote gender equity in advertising.
To start that conversation now, PolicyMic partnered with The Representation Project and asked their Facebook and Twitter followers to picks out the most sexist clothes, games, and commercials of this holiday season. Below are 10 of their selections, which indicate #NotBuyingIt can't come fast enough.
Which worst offenders have you seen this holiday season? Keep this list going and post your own photos in the comments!
1. Battle of the Sexes
A game to "determine the superiority of either mighty males or fantastic females?" Aimed at ages 12 and up? Awesome...
2. Disney
It might be cute for girls to dream of finding their princes — if it wasn't the only ambition offered by the toy world. Tired of this? So are they.
3. Fancy.com
Submitted by Hillary Hawkins via Facebook, these suitcase stickers "take a stand against monotonous travel," according to Fancy.com. It's hard to tell if they're warning that these stickers "may cause offense to airport and immigration staff" is ironic. Regardless, they're repulsive.
4. GoDaddy.com
"I completely canceled all my accounts from GoDaddy, one of the worst offenders," Sallee Autumn Kallenbach said via Facebook. Here's to 2014, GD ... 
5. India Today Magazine
Tell us how you really feel about Lean In. Threatened much?
6. Poundland
Aim high and smize, baby girls. Never mind the boardroom!
7. Shoppers Drug Mart
Never too young to eat your weight in chocolate lipstick, right little ladies?
8. Studiotees.com
"Stumbled across this at Studiotees.com," Elizabeth Connor wrote on Facebook. "They had a really funny shirt I wanted to buy for my friend, but they won't be getting my business now."
9. TrueCar.com
Women make 65% of new car purchases, and 80% conduct industry research before buying. Hopefully they have more luck than the women in this TrueCar.com commercial. "So apparently women are incapable of buying cars themselves?" asks Kadi Picinich, who submitted the commercial on Facebook. Apparently.
10. Urban Outfitters
Why, U.O.? Do you miss policing young girls' bodies? Or creating racist board games? We don't. So stop.