A Photo Chronicle Of Dennis Rodman's Trip to North Korea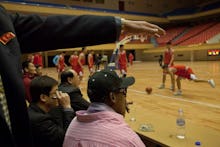 The news: Dennis Rodman is back from his week-long sojourn into North Korea, and while he apparently didn't meet Kim Jong-un (who may be too busy purging his uncle Jang Song Thaek from history and rounding up his colleagues and relatives), he did manage to get quite a bit done.
Rodman, who has a bizarre friendship with the Supreme Leader, was supposedly in the country to coach the North Korean basketball team. But it looks like he spent a lot of his trip touring the country, meeting various leaders, and even engaging in some semi-formal events ... in other words, what a theoretical American ambassador to the country might do.
See some images of Rodman's trip into the world's most secretive country below:
And at North Korea's Koryo Hotel:
But Rodman did far more than watch basketball, play hoops, and hang out in the country's only fancy hotel. Tweets from Michael Spavor, a Canadian consultant working on business, sports, and cultural exchanges between North Korea and China, tagged along and documented the trip:
Here's Rodman posing with North Korea's tallest man:
Visiting a water park:
And riding horses:
He even met a North Korean archery team:
All in all, a pretty productive trip.