Rand Paul Just Went On a Festivus Holiday Twitter Rant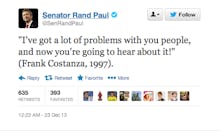 Republican Sen. Rand Paul (Ky.) is celebrating Dec. 23 the only way he knows is appropriate: with some Festivus tweeting.  
What exactly is Festivus? Let Frank Costanza explain:
OK, got that? This morning, Paul went on with his own "airing of grievances." No word yet on whether or not he's erected an aluminum pole on the Senate floor.
He primed his followers a bit last night:
Could it really be true? Rand Paul, celebrating Festivus with the rest of us?
What problems, exactly, does Paul have? And with who? Well this morning he let the twitter-sphere know. I present to you, Rand Paul's airing of grievances.
He's not fond of the Paul Ryan and Patty Murray budget deal, apparently:
And he thinks Congress could do a better job upholding the Constitution: 
He has some thoughts for the Senate cafeteria staff, too:
And for Pete's sake, let the man dress however he wants:
Some grievances, of course, are bigger than others:
Paul points out that today isn't just Festivus:
And oh boy, does he have some grievances with the Fed:
Sen. Paul, will you be partaking in all of the Festivus traditions?
Damn.
But wait!
Shots fired.
!!!!
I'm still holding out for a good old wrestlin' match.
That seems to be the end of Paul's Festivus twitter rant. But who knows, maybe he'll be back for more. We've got all day.
I don't agree with his politics, but the man's got his pop-culture references in order.