30 Songs That Changed the Course Of Musical History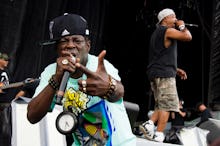 Music has always been a mirror and sometimes an actor in the shaping of history. It reflects a time period's political and social atmosphere, and it leaves a noticeable imprint on history. Sometimes, though, a song comes along that completely shifts the course of musical history.
Here are 30 songs that really changed history, courtesy of Sean Egan's amazing Defining Moments in Music.
1. "We Shall Overcome" — Traditional Spiritual
The anthem for the Civil Rights Movement in the 50s and 60s. It was the perfect musical companion to the goals of the activists attempting to achieve equality in a time of legalized hatred and vitriol. Its spirit of endurance gave necessary uplift in a time of deep turmoil.
2. "Strange Fruit" — Billie Holiday
One of the most beautiful songs ever recorded, this track's central metaphor depicts lynching in the south. 
3. "(We're Gonna) Rock Around The Clock" — Bill Haley
Usually regarded as the reason rock 'n roll gained the popularity that it did, "(We're Gonna) Rock Around The Clock" gives an idea of youth rebellion in its early stages, where staying up late constituted a revolution.
4. "Bésame Mucho" — Consuelo Velázquez
A gorgeous song that's widely recorded in both vocal and instrumental forms, it is most important for representing an American embrace of Latin music that endured for decades.
5. "At The Hop" — Danny & The Juniors
An example of a common trend in which white artists appropriated a black musical genre (as with Elvis), "At The Hop" became a cross-over hit that topped the pop, country, and R&B charts. The song is reminiscent of the blues, while capitalizing on the upbeat feeling of 50s music.
6. "What'd I Say" — Ray Charles
The origin tale of this song is legendary — Charles finished his set with time left, and improvised the song on the spot. It became wildly popular, as well as controversial, largely due to the call-and-response moaning sounds made by Charles and his back-up singers.
7. "The Twist" — Chubby Checker
Not only did "The Twist" change music, it changed the dance floor itself. Because of the movements required to achieve the twisting motion, dance floor crowds were no longer broken into partners. Instead, they were made to allow individual dancing.
8. "You've Lost That Loving Feeling" — The Righteous Brothers
Another interesting example of cultural appropriation that seems to occur throughout American music history, this song is often credited with beginning a movement known as "blue-eyed soul," in which white artists sang R&B and soul music in a similar fashion to African-American artists.
9. "Like a Rolling Stone" — Bob Dylan
Dylan moves away from the more common pop music tradition of unrequited or head-over-heels love and instead sings a love song with bitterness at the way the privileged take the benefits of their station for granted.
10. "For What It's Worth" — Buffalo Springfield
Written in response to violent clashes between youth and police on the Sunset Strip in Los Angeles, "For What It's Worth" has since become a defining sound of the time period, in which inter-generational discord was rampant and youth were attempting to assert themselves against authority figures.
11. "Revolution" — The Beatles
Written in response to the Vietnam War, "Revolution" was one of The Beatles' first forays into the realm of politically charged music. The song evokes a sense of serenity, calling for non-violence.
12. "American Pie" — Don McLean
In a metaphorical history of rock, rivaled only by Common's similar ode to hip-hop "I Used to Love H.E.R.," Don McLean created an infamous song documenting the changes in music that occurred after the death of Buddy Holly.
13. "I Am Woman" — Helen Reddy
The song's themes and relationship to the feminist movement is inescapable, but "I Am Woman" remains powerful and uplifting for any listener.
14. "Love to Love You Baby" — Donna Summers
"Love to Love You Baby" was society's introduction to disco, and its release was especially remarkable considering it is sung by a woman. It is also very sexually explicit as it features the sounds of Summer's orgasms.
15. "Concrete Jungle" — Bob Marley and The Wailers
This song appeared on the album that made Bob Marley and The Wailers truly popular, Catch A Fire. It recalls the experience of growing up in Jamaica, but would go on to fit into many of the themes approached in hip-hop, discussing the derelict state of urbanity and the few opportunities for betterment.
16. "I Will Survive" — Gloria Gaynor
In a genre all about good feelings and bad outfits, "I Will Survive" proved that disco could tell an important story and make a statement about female power and moving on from heartbreak.
17. "He Stopped Loving Her Today" — George Jones
Often regarded as the greatest country song of all time, "He Stopped Loving Her Today" tells a moving story of a man who refuses to give up on his love until the day he dies. This song set the standard for the melancholic tone prevalent in today's country music.
18. "9 to 5" — Dolly Parton
Featured in the feminism-charged classic 9 to 5, the song pushes for female liberation and fights back against male domination in the workplace. The song also helped Dolly Parton become a cross-over country star, bringing her music and its female perspective further into the mainstream.
19. "Billie Jean" — Michael Jackson
The song is most notable because of the enduring popularity of Michael Jackson and his enormous presence as a black musical artist in white homes.
20. "Rapper's Delight" — The Sugar Hill Gang
Generally considered to be the first song that popularized hip-hop in the U.S., "Rapper's Delight" immeasurably changed the course of the the genre and helped rap become a respectable style of music. It was the first hip-hop hit on the radio.
21. "Smells Like Teen Spirit" — Nirvana
Nirvana's tragic story allowed the band and this song to become a symbol of the fast and short rock 'n' roll lifestyle, but the song that catapulted the band to fame is often also regarded as the first alternative rock song to enter the mainstream.
22. "Walk This Way" — Run-D.M.C. featuring Aerosmith
Rick Rubin came up with the brilliant idea to combine hip-hop with classic rock, changing the music scene entirely and bringing hip-hop onto pop radio stations.
23. "Fight The Power" — Public Enemy
While it's really hard to pick the best Public Enemy song, "Fight The Power" has an undeniable theme of black empowerment that was previously unheard of. Its broad interest in ending racism contrasts with their more specific songs, and its poignant observations point to the necessity of change.
24. "It Was A Good Day" — Ice Cube
This song is often viewed as the first popular gangsta rap song, in which Ice Cube talks about the daily life in the inner city and what it would look like if everything went right.
25. "You're Still The One" — Shania Twain
"You're Still The One" was modern country music's first major crossover into pop music with Twain crooning about undying love with significantly less twang than most country singers of the past.
26. "What A Girl Wants" — Christina Aguilera
In contrast to the mediocre voices of artists like Britney Spears, contemporary female pop finally found a powerhouse voice in Aguilera. Aguilera's voice is undeniably incredible, and her range rivaled that of Mariah Carey, setting a new standard for ballads and more well-rounded talent in the industry.
27. "This Fire" — Franz Ferdinand
This song charted after being released only online, representing the technological innovations that would continue to rule the music industry in the digital age.
28. "Hey Ya!" — Outkast
Outkast's interesting sound made it almost unidentifiable as hip-hop, incorporating a country twang and more gospel-sounding call-and-response. This song represents the moment when hip-hop invaded adult contemporary music and took over the mainstream.
29. "Longview" — Green Day
Green Day's prominence in mainstream music ran counter to the entire purpose of punk music, but allowed it a previously unheard-of popularity. The band has continued to record for multiple decades, an impressive feat for any artist.
30. "Hotel California" — The Eagles
This song is about a traveler who gets trapped in a mystical hotel that serves as a symbol for all of L.A. Its haunting lyrics reveal the detrimental effect of life in Los Angeles, where materialism rules and humanity is pushed aside, while also acknowledging the irresistible glamour of the town.