'Girls' Teases Us With a New Season 3 Trailer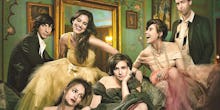 HBO's Girls is returning for Season 3 on January 12, but in the meantime they're teasing audiences with yet another trailer. There are many exciting little gems in this beautiful 90 seconds (a new Hannah Horvath haircut, biting yet true words from Shoshanna "It's really amazing that all three of you have accomplished so little in the four years since college").
But what will undoubtedly turn the most heads here is the presence of fashion-guru/the brains behind J. Crew, Jenna Lyons who plays Hannah's boss come episode six. Jessica Williams (of The Daily Show glory) also makes an exciting little cameo in the trailer. 
Girls we are ready for you, but are we really ready for another season of Hannah dating Adam?