8 Forgotten Holiday Movie Classics From Your Youth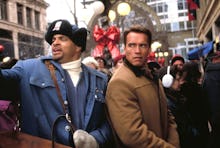 We've all got The Santa Clause, Elf, A Christmas Story, and How the Grinch Stole Christmas loaded into our DVD players this holiday, but there was a time when our Christmas palettes were broader. Let's get nostalgic.
This Christmas, we give you eight holiday classics you probably forgot about, but absolutely must watch again this holiday season. You have 24 hours.
1. Prancer (1989)
Number one, all the way, could only have been Prancer. Hello, uber-adorable, heartwarming story about human kindness and the power of love. This film revolves around family, loss, and friendship — not toys, and not even Santa (even though he's awesome).
This holiday masterpiece is about Jessica who, after the death of her mother, finds an injured reindeer in the woods. Believing the reindeer to be one of Santa's, she decides to nurse him back to health, befriends a widow, heals her family, and inspires a town in the process.
Beautiful.
2. Jingle All The Way (1996)
When not playing your friendly neighborhood Terminator, Arnold Schwarzenegger liked to celebrate the holidays like much of America: enmeshed in the trappings of capitalism. No, seriously, though, Jingle All the Way is about a busy father who needs to buy the year's hottest gift for his son the day before Christmas — a film plot that actually turns out to be a criticism of the sometimes insane, violent shopping that happens this time of year.
Besides, I can never forget the scene when, instead of running from an explosion or bearing down on a defenseless predator, Schwarzenegger bolts down a street chanting the names of Santa's reindeer.
Also, Sinbad, winner of Best Random 90s Star, plays Schwartzenegger's mailman nemesis.
You're welcome.
3. I'll Be Home For Christmas (1998)
Is there anything better than Jonathon Taylor Thomas? Or, as he was known to all prior to 1999, JTT; Those beautiful eyes and always-fabulous 90s hair graced a wall in every suburban teenage girl's bedroom.
While the film was pretty much a critic's nightmare, how could anything with JTT dressed up in a Santa costume not be wonderful? In I'll Be Home For Christmas, Jake (JTT) races across America using various forms of transportation, trying to make it home by 6 p.m. on Christmas Eve so that his father will give him a 1957 Porsche; though of course, JTT finds something better than a Porsche waiting for him at home: family.
Oh, and did I mention that Jessica Biel was in it?
4. The Muppet Christmas Carol (1992)
To begin:
"Kermit the Frog: If you please, Mr. Scrooge, it's gotten colder, and the book-keeping staff would like an extra shovel full of coal for the fire?
Rat #1: We can't do the book-keeping, all our pens have turned to inkcicles!
Rat #2: Our assets are frozen!
Ebenezer Scrooge: How would the bookkeeping staff like to be suddenly ... unemployed!
Rats: [singing] Heat wave! This is my island in the sun ..."
Oh, Muppets. Who would have thought that oddly-shaped, slightly sarcastic puppets (no, I don't mean Bill Murray) could do a fantastic retelling of one of the greatest Christmas stories of all time, A Christmas Carol?
But do it they did. Funny and sweet, The Muppet Christmas Carol stays true to the story (while adding some singing rats) and actually portrays the heartwarming ending with genuine sincerity.
5. To Grandmother's House We Go (1992)
No list of millennial film classics could be complete without at least one Mary Kate and Ashley Olsen film. Whether you have the guts to own up to watching them, or if you'd rather claim it was only your little sister's VHS, admit it: you saw this movie. And while, today, it is terrifying to think of young children hitching a ride in the back of some dude's delivery truck, in the 90s, this was somehow adorable and totally acceptable for a children's movie.
In the movie, 90s princesses Mary Kate and Ashley get angry at their mother and decide to chill at their grandmother's house for the holidays. When their mother's friend, the FedEx guy, comes around, they hop in the back of his truck and take off, ultimately bringing about a Christmas miracle: a new husband for mommy!
6. Babes In Toyland (1986)
Drew Barrymore and Keanu Reeves. Need I say more? This (drug-induced?) zany holiday classic starts off with a Wizard of Oz-like transition to a parallel world of happiness and horror, complete with excessively large toy soldiers and a trip with Santa to the Milky Way.
Basically, Drew has to save the day so that Keanu can marry his ladylove before she becomes a troll princess. The whole movie is a pretty straightforward morality tale about learning to be brave, and what better time of the year than Christmas to find your courage? Christmas courage y'all, it's a thing.
7. Ernest Saves Christmas (1988)
What happens when you take a man named Ernest, a runaway named Harmony, and an airline passenger named Santa? A madcap ride through Orlando, Florida in a sleigh is what.
I don't know what it is about Ernest — maybe it's that he's a Christmas optimist, just like Cindy Lou Who, or maybe it's Ernest's age-inappropriate innocence — but, there's something endearing about a grown man committing himself so completely to the wonder of Christmas.
Oh, Ernest, at every holiday, you were there making a mess of things and reminding us of the terror of eccentric friends and family. In the end, though, you always redeem yourself with a glorious message of true holiday cheer and generosity.
8. Santa Claus: The Movie (1985)
Hello, 80s movie magic! Santa Claus: The Movie was filled with top-of-the-line animated sparkles, cheesy soundtracks, and the ultimate 80s actor: John Lithgow.
This movie actually has two storylines: one about how Santa became who he is, and the second about Santa's charmingly-naïve, super-80s elf, Patch (Dudley Moore), desperately racing to save Christmas. With John Lithgow.