10 Photos Of U.S. Troops Celebrating Christmas Across the World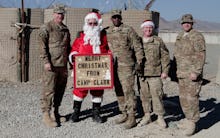 The U.S. military has 1,429,995 active-duty personnel, of which approximately 164,253 are deployed around the world in more than 150 countries. Over 68,000 troops are in Europe, 51,000 in East Asia and the Pacific, 4,400 in North Africa, the Near East, and 1,900 in the Western Hemisphere. And some 60,000 U.S. troops remain in Afghanistan awaiting the withdrawal of American forces.
Here's how they celebrated Christmas.
1. Ghazni Province, Afghanistan
U.S. soldiers and service members with the NATO-led International Security Assistance Force celebrate Christmas dinner at their base in Ghazni province, Afghanistan.
2. Logar Province, Afghanistan
A service woman poses in front of Santa in Logar Province.
3. Camp Clark, Khost Province, Afghanistan
U.S. Maj. Gen. James C. McConville poses with soldiers at Camp Clark in Khost province in eastern Afghanistan.
4. A Plane, Eastern Afghanistan
Combined Joint Special Operations Task Force-Afghanistan troops watch out the rear of a plane delivering care packages, Christmas stockings, and mail to soldiers stationed in remote, eastern Afghanistan.
5. Kaneohe Bay, Hawaii
President Obama takes time out of his quiet Christmas vacation to address 600 service members and their families at Marine Corps Base Hawaii.
6. Camp Zama, Kanagawa Prefecture, Japan
United States Army Japan band members entertain the community at Camp Zama on Dec. 3.
7. New Jersey
Travis Ruggiero, an Army Specialist, surprised his mom at work on Christmas Eve by arriving early from Afghanistan to meet her at work on the maternity unit at Ocean Medical Center in Brick, New Jersey.
8. South Korea
U.S. troops in South Korea meet Dallas Cowboys Cheerleader Holly Arielle for Christmas.
(Christmas in North Korea was cancelled this year.)
9. Guantanamo Bay, Cuba
Following anonymous complaints by 18 officers to the Military Religious Freedom Foundation, nativity scenes were removed from this year's display at the Guantanamo Bay dining halls.
10. Bahrain
Naval Support Activity Bahrain commander Capt. David Meron (left) and base executive commander Leif Hammersmark serve food at a Christmas meal for troops in Bahrain, where the aircraft carrier USS Harry Truman was docked to meet with deployed troops.