All the Greatest 'Get Lucky' Covers in One Epic Video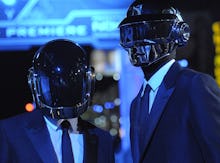 If you haven't heard "Get Lucky," then you probably didn't live through 2013. Daft Punk & Pharrell's "Get Lucky" was arguably the song of 2013. Today, Stereogum proved it with an epic supercut of the biggest "Get Lucky" covers of the year. From Bono to Jimmy Fallon, everyone weighed in.
Not all covers of "Get Lucky" are created equal, though. For instance, the Russian Army Choir's is pretty unreal. Granted, it's a little terrifying, but it's loads of fun. Already known for performing other international megahits like Adele's "Skyfall," the Russian Army Choir returns for this hilarious and fun rendition.
Or, if you wanted to see Barack Obama singing "Get Lucky" (and who wouldn't), there's the Barack Dubs version. Started by a 19-year old biochemistry student in 2012, the YouTube Channel is known for remaking pop songs like Justin Timberlake's "SexyBack" and Carly Rae Jespen's "Call Me Maybe."  Barack's Dubs "Get Lucky" has nearly 10 million views.
Multi-instrumentalist Skylar Grey's "Get Lucky" not only brings her unique voice to the track, but also remixes the beat in a great new way. This is less about the novelty, and more about the musical quality.
And, finally, if Bono covers your track, you know it's become a phenomenon.