16 Portraits of Everyday People Who Refuse to Let Their Hometown Be Defeated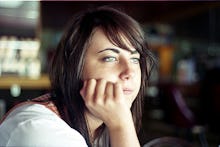 Flint, Michigan, is a city of about 100,000 people, 66 miles northwest of Detroit. It has landed on the Forbes lists of "most miserable cities" and "fastest-dying cities."
The staggering number of violent crimes, at almost 3,000 per 100,000 people, earned it the No. 1 spot on Business Insider's "most dangerous cities" lists for 2010, 2011, and 2012.
In 2012, the murder rate was higher than Baghdad's.
The poverty rate is over 40%, and the percentage of adults with a high school degree is roughly 83%. A 24/7 Wall St. special reported that the median household income was just $23,380 in 2011, "the second-lowest of all 555 cities measured by the U.S. Census Bureau."
Following the collapse of the auto industry, which supplied almost all of the jobs in town, a third of the city has been left abandoned; an average of five people leave per day. If all of the abandoned houses, vacant lots, and buildings were consolidated, there would be 10 square miles of "blight" in the city. 
Despite the depression and decay, however, there's another side to this city, one that's too easy to forget by focusing on the despair alone.
Some people have not left. Their resilience and loyalty is a testament to the true spirit of this city: one that's about identity, pride, and a refusal to be defeated. 
The photos below depict some of these stories, the stories of the everyday people who are fighting for a better Flint. The stories of the very real Americans who never get recognized, but will carry on the fight regardless.
The stories of the people who inspire us all.
(READ: This is One of America's Most Violent Cities — And It Deserves More Attention)
(via Justin Clanton)
(via AP)
(via AP)
(via Justin Clanton)
(via AP)
(via AP)
(via AP)
(via Justin Clanton)
(via Justin Clanton)
(via Justin Clanton)
(via Justin Clanton)
(via Justin Clanton)
(via Justin Clanton)
(via Justin Clanton)
(via Justin Clanton)