Watch Aaron Paul Give This 'Breaking Bad' Fan the Marriage Proposal of Her Dreams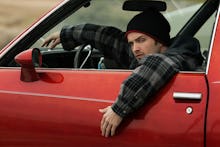 One Breaking Bad fan recently got the marriage proposal of her dreams.
Earlier this year, the woman-in-question's boyfriend, Jason Lord, donated to the Kind Campaign, a charity and school program that advocates for respectful treatment of others (aiming, especially, to stop female bullying). The Kind Campaign's Co-Founder, Lauren Parsekian, also happens to be Breaking Bad star Aaron Paul's wife. Once Paul discovered that Jason Lord's then-girlfriend Jackie Prater was a huge fan of the show, he did what any celebrity would do: He offered to make her Lord's fiancée.
On December 15, Lord took Prater out for a night out on the town. One of the couple's first dates involved a drunken duet to Mr. Big's 1991 ballad "To Be With You," so Lord decided to perform a rendition of the song. Toward the middle of the song, the lights dimmed and a video of Paul appeared. "Hi, Jackie. I hope all's well there in Chicago. I just wanted to send you a message on behalf of my good friend Jason — I think you know him — who I understand has a very important question to ask you."
After the actor's words of encouragement, Lord proposed to an ecstatic Prater, who didn't hesitate before saying yes. The actor then said a final few words before signing off (6:49). Needless to say, the proposal went viral shortly thereafter.
Thankfully for all involved, Heisenberg didn't make an appearance.