Church Takes Stand Against Guns With Bleeding Trayvon Martin Nativity Scene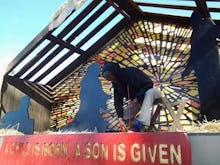 There are your usual nativity scenes, and then there is the nativity scene in front of Claremont United Methodist Church in Claremont, California featuring Trayvon Martin bleeding onto the ground, alongside baby Jesus and Mary.
Source: The Daily Kos
For the past seven years, the church has commissioned its nativity scene to be turned into a provocative art piece set in a contemporary context that goes beyond a simple retelling of the classic bible story. This year's artist, John Zachary, had previously turned Mary and Jesus into Iraq War refugees and Mexican immigrants. This year, he wanted to tackle gun violence.
"I've tried to make them contemporary issues that are provocative as they relate to the nativity story," Zachary said. When describing the Trayvon Martin nativity scene, Zachary said he wanted to challenge the contemporary telling of the nativity story that is comfortable and pleasant. This year's nativity scene certainly does that. 
"What if Jesus was lying there bleeding to death?" Zachary said.
Source: YouTube 
The nativity scene reads: "A Child is Born, a Son is Given."
Source: The Daily Kos
However provocative this scene may be, Zachary said the response has been fairly quiet. "I thought this would be more controversial," he said. I'm betting reactions would have been a little different had the nativity scene been set up in Sanford, Florida rather than Claremont, California. But whether or not the public is behind him, Zachary finds support from the Claremont United Methodist church.
"It's hard to look at a young man who's shot and bleeding to death. But even though I'm uncomfortable with it, that's the point," Sharon Rhodes-Wickett, a lead pastor at the church, said. 
Source: YouTube 
If you're having trouble finding a connection between the nativity story and the murder of Trayvon Martin, Zachary is confident that this year's scene is "in keeping with the teachings of Jesus." It's supposed to attack our "privilege," as Zachary puts it. And it's supposed to make us uncomfortable – again, that's the point. 
Zachary's nativity scene will stay up until January 5. Now we just have to wait a year to see what he comes up with next.