This Man's Case Proves the Truth About Florida's Stand Your Ground Law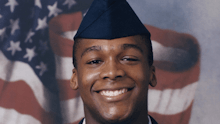 If you believe that the George Zimmerman verdict was fair because Florida law protects a person's right to use deadly force to defend himself, consider the case of Michael Giles.
In 2010 Giles, who is black, was a 26-year-old father of three on active duty with the U.S. Air Force stationed in Tampa, Florida, about 100 miles from where Zimmerman would fatally shoot unarmed teenager Trayvon Martin less than two years later. One night, shortly after Giles arrived at a nightclub in Tallahassee with some friends, a huge brawl broke out among 30 to 40 fraternity brothers from nearby Florida A&M University. Giles wasn't involved, but went to his car and retrieved his gun before going back to the club to find his friends. Randomly, someone from the crowd punched Giles, knocking him to the ground. Afraid for his life, Giles shot his attacker in the leg and wounded three men, none of whom died.
Immediately, Giles was arrested. He was later charged with second-degree attempted murder. Unlike Zimmerman, Giles had no criminal background. But today, the former U.S. airman is sitting in a Florida prison while Zimmerman walks free.
So, why did Giles lose his case? The prosecuting attorney argued, "There is no self-defense that is applicable based on the evidence that's before the jury," and apparently, the jury bought it. They convicted him of aggravated battery with a deadly weapon and sentenced him to 25 years behind bars based on the other controversial law at play here. The rule, "10-20-Life" confers a minimum sentence of 10 years for a felony conviction where a firearm is  brandished. Another 10 years is automatically added if the gun is fired, and, if someone gets shot, it goes up to 25. So there you have it. 
But Giles' family isn't passively accepting the conviction or sentencing. They want the state to reevaluate his case, claiming it was wrongly decided. And apparently, lots of people agree. Already, 56,000 people have signed an online petition made by Giles' mother asking Florida Governor Rick Scott for executive clemency for her son.