20 Of 2013's Biggest Hits in One Amazing A Cappella Medley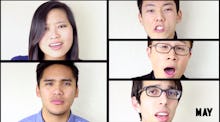 2013 has been a big year for pop music, and what better way to honor it than an amazing a cappella medley?
The mashup, sung by Brian Wang (who also arranged and produced the track), Jaron Liclican, Vivian Dinh, Daniel Leon, and Kunwoo Hong, includes at least one song from every month of 2013, and is based on Billboard's Hot 100 list.
Here's a complete list of the songs in the medley: "Beauty and a Beat" by Justin Bieber, featuring Nicki Minaj; "I Knew You Were Trouble" by Taylor Swift; "Don't You Worry Child" by Swedish House Mafia; "Try" by P!nk; "Stay" by Rihanna, featuring Mikky Ekko; "The Way" by Ariana Grande, featuring Mac Miller; "Heart Attack" by Demi Lovato; "Come and Get It" by Selena Gomez; "Can't Hold Us" by Macklemore and Ryan Lewis; "Mirrors" by Justin Timberlake; "Blurred Lines" by Robin Thicke, featring T.I. and Pharrell; "Radioactive" by Imagine Dragons; "Cups" by Anna Kendrick; "Clarity" by Zedd, featuring Foxes; "Wrecking Ball" by Miley Cyrus; "Roar" by Katy Perry; "Applause" by Lady Gaga; "Royals" by Lorde; "Story of My Life" by One Direction; and "Timber" by Pitbull, featuring Ke$ha.
If you're racing to catch up on a year of pop music before New Year's Eve, this is a good place to start.