10 Different Professions James Franco Tried Out This Year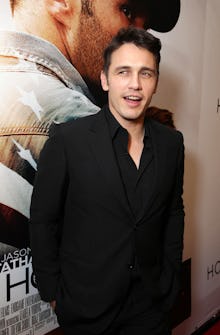 It's very common to see famous people who are one-trick ponies: they just act, direct, or write. But James Franco is like a 400-trick pony. Here are some of the many Francos we have seen this year.
1. Professor Franco.
Franco started teaching a film production class at the University of Southern California's School of Cinematic Arts. Applicants for the class had to submit a short film clip no longer than 10 minutes to enroll. How much do you bet someone made a Freaks and Geeks reference on the first day of class?
2. Tourist Attraction Franco.
On March 8, Franco was awarded a coveted star on the Hollywood Walk of Fame. If you're interested in making a pilgrimage, Franco's star is located at 6838 Hollywood Boulevard … next to all of his academic diplomas.
3. Character in great American literature Franco.
Franco announced in March that he would be a Broadway star in the stage revival of John Steinbeck's classic Of Mice and Men, where he'll be playing one of the main characters, the daydreaming George Milton. He also directed and acted in an adaptation of Falkner's As I Lay Dying.
Franco's film Child of God is based on the 1973 novella by Cormac McCarthy. It's an official selection at multiple film festivals during the months of August and September, including the Venice Film Festival, the Toronto Film Festival, and the New York Film Festival. He wrote and directed the film, and he's also the lead.
Franco's work with great figures in American literature began long ago, however, when he starred in the 2002 blockbuster Spider-Man — as Spider-man's bestie.
4. LGBT Activist Franco.
Franco was awarded the Ally Award during the Miami Gay & Lesbian Film Festival for his steadfast support of the LGBT community. His contributions are not strictly in the real world; the festival recognized his contributions to LGBT cinema too, including his playing several LGBT characters (most significantly, Scott Smith in Milk and, less significantly, Gary Shteyngart's husband in a show-stopping performance in Shteyngart's Little Failure trailer).
5. Model for High-End Quarterly Magazines Covers Franco.
In June 2013, Franco was interviewed by Man of the World magazine and served as the quarterly publication's cover model for its "Winter 2013" issue, making sure to strike the exact same pose in each frame.
6. New York Times Contributor Franco.
Just yesterday, James Franco published an article on the selfie called "The Meaning of the Selfie" for the New York Times. My only question is this: when Franco takes a selfie, which Franco does he photograph?
7. Oscar campaign Franco.
In September, A24 films started a campaign to get Franco nominated for a Best Supporting Actor Oscar for his role as Alien in Spring Breakers. The campaigns slogan? "Consider this sh*t." It's a great saying, especially because the Academy really loves cursing.
8. Most prolific actor ever Franco.
10 films featuring Franco (three of them with him as director and/or producer) premiered during just 2013 alone. Considering many celebrities are "busy" when they have three or even four films coming out in one year, Franco's record takes the cake.
In 2013, Franco played every kind of character from the bizarre gangster rapper Alien in Spring Breakers, to the title characters in Oz the Great and Powerful, to Hugh Hefner in Lovelace (in fairness to other actors, this is kind of like the Wizard of Oz).
9. College man Franco.
Franco was part of an UCLA ad campaign to showcase its famous alumni under the tagline, "Some A-Lists Actually Get A's."
10. Kanye West Franco.
Working in tandem with his buddy Seth Rogen (Kim Kardashian), the duo made an absolutely hilarious spoof of Kanye West's music video for his song "Bound 2" (which features Kimye essentially humping on a motorcycle) that garnered millions of hits on YouTube.