Pussy Riot's New Announcement is a Surprising End to Their Dramatic Career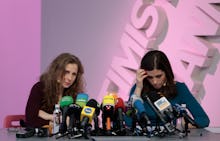 Pussy Riot members Nadezhda Tolokonnikova and Maria Alyokhina announced on Friday morning that, after three years of making music and championing social and political causes, they are laying the Pussy Riot band and brand to rest. The duo will instead focus on their activist efforts, which have included advocating for prisoner's rights, women's rights, and LGBT equality. 
Tolokonnikova and Alyokhina have immediate plans to form a non-governmental prisoner's rights organization called "Zona Prava" ("Justice Zone"), which will receive crowd-sourced funding. While Zona Prava will focus on championing human rights, the duo plans to steer clear of overt political action. "Still, human rights activities in Russia are inevitably linked to politics," Alyokhina said. 
They have plans to continue speaking out against Putin, though. "As for Vladimir Putin, we still feel the same about him," Tolokonnikova said at the press conference. "Mother of God, drive Putin away."
"We can promote our cause without playing any shows," Alyokhina said at a news conference. "And we will never play any shows for money."
Although their band has become an international symbol of rebellion and controversial political actions (especially with their anti-Putin statements), Alyokhina and Tolokonnikova do not plan to profit off the Pussy Riot name and brand. "We are not Pussy Riot now," Tolokonnikova asserted. 
Via AP
The women hope to work with Mikhail Khodorkovsky, a Russian businessman and oil tycoon recently released from prison after 10 years, in forming their organization. They they have no plans to receive funding from him. Yekaterina Samutsevich, the third member of Pussy Riot, was released from jail in October 2012. She has not indicated whether she will join Tolokonnikova and Alyokhina in their efforts.
Tolokonnikova and Alyokhina have been the subject of scrutiny and controversy since landing in prison after being charged with hooliganism in 2012 for performing the anti-Putin "Punk Prayer" at a church in Moscow. Their hunger strike and subsequent letter outlining the poor treatment of prisoners in the Russian prison system garnered international attention.