Thousands Plan to Support 'Duck Dynasty' By Staging a Sit-In At This Popular Restaurant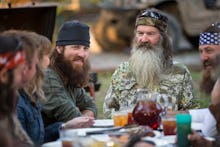 Just when you thought the Duck Dynasty controversy was over, Phil Robertson fans are planning to show their support by launching a "Chick-Phil-A" social media campaign to eat at the popular restaurant Chick-fil-A on Jan. 21.
Organizer Eric Odom says he created a Facebook page to support Robertson's freedom of speech after A&E suspended him from his own show for comparing homosexuality to bestiality and saying the gay lifestyle was sinful.
But Odom says he soon realized Facebook likes weren't enough, and direct action to support Robertson is necessary. He told The Blaze that "supporting Robertson needed to go beyond 'liking' the Facebook page or signing a petition." Drawing comparisons to criticism of Chick-fil-A founder Dan Cathy's anti-gay comments in 2012, Chick-Phil-A National Support Day was born, and now has over 25,000 likes.
Here's the simple plan: On Tuesday, Jan. 21, Robertson's supporters go to Chick-Fil-A and have a nice meal. Since Chick-fil-A is run by evangelical Christians, his fans think they can send a message by appearing in force.
The group's slogan is "Stand for free speech. Sit for good food."
Before you turn up your nose, know that the 2012 Chick-Fil-A Appreciation Day — where the chain's conservative fans showed up en masse to back Cathy, who said that gay marriage was "inviting God's judgement on our nation" and criticized the LGBT community of a "prideful, arrogant attitude" — was extremely successful. Fans stretched around the block in one Atlanta location, as did pro-LGBT-rights protesters.
Chick-Phil-A National Support Day may have the same kind of impact. The campaign is going viral on social media, and by Friday afternoon, over 60,000 people had committed to attending on the event's Facebook page:
Commenters on Twitter noted that Chik-Fil-A has managed to build a loyal brand around their willingness to stand up for conservative principles:
According to Odom, Robertson and Cathy's opinions are "similar, not discriminating. They are just expressing their opinions."
Rather than chicken, though, it's ducks that made an appearance on the page:
Some of Robertson's fans were excited about the planned protest.
Others on the page were skeptical.
Mostly, though, the page was getting trolled.
For what it's worth, Chick-fil-A announced a statement denying any involvement with the protest. "This event has been created by an independent group and is not sponsored by or affiliated with Chick-fil-A," said company spokesman Jerry Johnston. Some fans weren't happy about this, posting on the official event page:
Regardless, one thing is clear: If you don't like Robertson's comments, Jan. 21 might be a good day to steer clear of your local Chik-fil-A.