The Price Of An Apartment, in 20 Cities Across America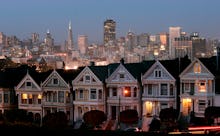 It's a common topic of conversation: "oh man, my rent is soo high," or "can you believe how little she's paying for that place?"
We all like to talk about rent prices and we all like to think we're getting a good deal, but most of it's has been hearsay and speculation — until now.
Newly released data compiled by ApartmentList.com, an apartment search service, shows exactly which cities are demanding the most for apartment rentals, and which offer the best deals. By taking the median of studio, one-bedroom, and two-bedroom listing prices, Apartmentlist.com came up with a clean, succinct list of the most expensive and least expensive American cities to rent an apartment. Take a look:
The most expensive American cities to rent an apartment:
10. San Diego ($1,670)
9. Seattle ($1,718)
8. Miami ($1,742)
7. Oakland, Calif. ($1,812)
6. San Jose, Calif. ($2,165)
5. Los Angeles ($2,177)
4. Washington, D.C. ($2,699)
3. Boston ($3,190)
2. New York ($3,344)
1. San Francisco ($3,396)
The least expensive American cities to rent an apartment:
10. Kansas City, Mo. ($730)
9. Louisville, Ky. ($727)
8. Columbus, Ohio ($722)
7. Arlington, Texas ($713)
T-5. Memphis, Tenn. ($692)
T-5. Indianapolis ($692)
4. Detroit ($678)
3. Tulsa, Okla. ($672)
2. Tuscon, Ariz. ($628)
1. Wichita, Kan. ($623)
Most of the listings shouldn't be too surprising (expensive rent in big cities on the coasts, cheaper in the South and Midwest), but what is notable is the difference between the No. 10 spot and No. 1 spot on the two lists. The difference between Kansas City and Wichita on the "least expensive" list is just $107; almost nothing compared to the $1,726 difference between San Francisco and San Diego on the "most expensive" list.