11 Famous Billionaires Who Never Graduated From College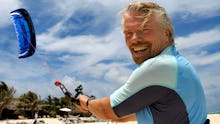 With rising tuition costs and mounting student debt, college is becoming a tougher choice for many young people. The competition for admission is getting more fierce every year, and there is no guarantee that a college diploma will translate to a well-paying job after graduation.
Yet, some people have earned success without securing a college degree. Through a combination of entrepreneurship, ambition, and luck, these 11 highly-successful businessmen have built empires from scratch. 
1. Bill Gates
Net worth: $72 billion
College: Dropped out of Harvard University
Nicknamed "Harvard's most successful dropout," Bill Gates is officially the richest man in the world. The Microsoft founder decided after two years of college that his time was better spent starting his own company, which he founded with his friend Paul Allen, another dropout billionaire. Microsoft eventually became the biggest tech company in the world (a title that Apple stole in 2010). Through his nonprofit Bill & Melinda Gates Foundation, he has also donated billions to charitable causes. What else is there to say?
2. Amancio Ortega
Net worth: $57 billion
College: Did not attend
Kate Middleton is among the millions of people who shop at Zara every year. But few customers know that its owner, Amancio Ortega, is the third richest man in the world. The son of a railway worker and a housemaid, Ortega decided at an early age to get a job rather than matriculate in school. After working for a local shirt maker, he started his own manufacturing company and organized thousands of local Galician women into sewing cooperatives. Since then, the "fast fashion" brand has taken over the world.
3. Michele Ferrero
Net worth: $20.4 billion
College: Did not attend
Who knew there was so much money in Italian chocolate? Michele Ferrero, along with his family, built a bakery business after World War II. He created his signature chocolate treat in his laboratory, which helped the family business become a chocolate empire. Now he's known as a real-life Willy Wonka, and with Ferrero Rochers, Tic Tacs, Kinder Eggs, and Nutella in his portfolio, he certainly deserves the title.
4. Mark Zuckerberg
Net worth: $19 billion
College: Dropped out of Harvard University
While the film The Social Network did not present him favorably, Mark Zuckerberg still deserves credit for founding the biggest social media website in the world. The Facebook CEO showed prodigious talent with computers, and had created many programs even before he enrolled at Harvard. Facebook remains his signature achievement, and the controversy surrounding the company's early stages has been immortalized on film.
5. Michael Dell
Net worth: $15.9 billion
College: Dropped out of University of Texas
As a teenager, Michael Dell often took apart and rebuilt computers. In high school, he developed a targeted marketing system to sell newspaper subscriptions, which made him $18,000 in one year. By the time he was in college, he combined his interests in tech and business to start his own company, which allowed him to build and sell computers directly to customers. It was so successful that he left college to focus on it full time, and Dell is now one of the biggest PC makers in the world.
6. Francois Pinault
Net worth: $15 billion
College: Did not attend
If success is the best revenge, then Francois Pinault certainly is getting the last laugh. He dropped out of high school to work at his father's lumber mill. Now, he is the CEO and majority shareholder of the fashion conglomerate Kering, and owns powerful brands like Gucci, Alexander McQueen, Yves Saint Laurent, as well as Christie's auction house.
7. Ralph Lauren
Net worth: $7.7 billion
College: Dropped out of Baruch College
The son of Jewish immigrants from Poland, Ralph Lauren developed an early penchant for fashion while selling ties to his schoolmates. After briefly serving in the U.S. Army, he worked for Brooks Brothers and eventually started his own company at 26, selling his necktie designs. Now his Polo Ralph Lauren brand, and the iconic polo shirt, are known around the world.
8. Richard Branson
Net worth: $4.6 billion
College: Did not attend
This real-life Tony Stark dropped out of school at 16, and went on to found the Virgin Group, which includes Virgin Mobile phones, Virgin Atlantic Airlines, and now, the Virgin Galactic space tourism agency. While Richard Branson has enjoyed his "billionaire playboy" image, he has also pursued many charity causes through his nonprofit foundation. It seems like for Branson, not even the sky is the limit.
9. Ingvar Kamprad
Net worth: $3.3 billion
College: Did not attend
Ingvar Kamprad demonstrated his entrepreneurial spirit from an early age. He would buy matches in bulk from Stockholm and sell them individually to make a profit. When he was 17, he decided to start a company with cash his father gave him. Now, IKEA is the largest furniture retailer in the world. You can thank Kamprad for furnishing the dorm rooms and apartments of everyone you know.
10. Oprah Winfrey
Net worth: $2.9 billion
College: Dropped out of Tennessee State University (but eventually earned a diploma in 1987).
Oprah Winfrey is not just a person — she is an institution. Despite her difficult childhood, she found her talent as an engaging media personality. She left college to co-anchor an evening news program in Baltimore, just one credit shy of graduation. Now she has her own TV channel, radio program, magazine, book club, and most importantly, her image brand.
11. Steve Jobs
Net worth at the time of death: $7 billion
College: Dropped out of Reed College
It would be remiss to talk about Gates without bringing up his main competitor, Steve Jobs. Though the Apple founder died in 2011, his impact on technology remains strong today. Just one semester at Reed convinced him that the tuition was too much of a financial burden on his parents, and he dropped out. After working at Atari, he went on to found Apple with his partner Steve Wozniak. Apple is now one of the biggest tech companies in history.