The Most Impressive A Cappella Cover Of 2013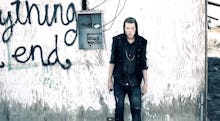 We've all seen our fair share of terrible covers of popular songs on YouTube. But sometimes, burgeoning musicians lend their pipes to cover their favorite songs and rock them better than the big names that originated them. Their names may not be in lights, but they have the badass credential of besting some of the music industry's biggest names.
And the best out of these YouTube gems in 2013? Pentatonix's version of "Radioactive."
Imagine Dragons released the song in 2012 to widespread critical and commercial acclaim. The song spent over a year on the U.S. Billboard Hot 100 chart, was the third best selling song of the year, and earned the band a Grammy nomination for Best Rock Performance.
It's A tough act to follow. But with killer vocals, a beat boxing cellist and a dancing violinist, Pentatonix's collaboration with Lindsey Stirling outshines the original.
Pentatonix's cover garnered accolades of its own. To date, the recording has garnered over 51 million YouTube views and landed the group a 2013 YouTube Award.
Believe the hype. You may not hear the song on the radio, and it may not be honored at the Grammys in January, but Pentatonix's "Radioactive" is far and away the best cover of 2013. Not only do the post-apocalyptic scenes in their music video fit the song better than the cage fighting Muppets of the original, but also (and more importantly) their stellar vocals are more catchy and haunting than Imagine Dragons'.
The original is a typical pop hit with all the benefit of a record label and radio distribution. But Pentatonix's version is the sort of song that only could have been produced in 2013. Theirs is the mark of a responsive culture — they heard a song they liked, were empowered to reimagine it, and they got almost as much attention for it as the original.
You've heard it a million times: the music industry has gone through a tectonic shift. iTunes, YouTube, Bandcamp, Spotify, Pandora, Nimbit, all of these online tools and more are not only making music more accessible than ever before, they're making it easier for amateur artists to record and distribute their work.
Some may believe it's the death of the music industry. But it also means groups like Pentatonix can record amazing songs and get the recognition they deserve. This song is the only evidence you need to know that's a good thing.