10 Most Pirated TV Shows Of 2013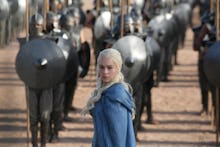 This has been a great year for TV. We said farewell to some fan favorites, while cult hits found new cultural status. But with tighter budgets, it's become harder to fork over money for premium cable channels, or to legally purchase every episode of a show. Online piracy has become especially prevalent among young people — 70% of 18-to-29-year-olds admitted to illegally downloading music, TV, or movies last year.
But piracy is not always bad news. While shows may lose initial profit, the increased viewership leads to online presence, and may convert casual watchers into diehard fans who are willing to pay and watch legally. Game of Thrones' David Petrarca even thanked illegal torrents for creating "cultural buzz," adding that "that's how [shows] survive."
So without further ado, here are the top 10 most pirated shows of the year, courtesy of data via BitTorrent:
1. 'Game of Thrones'
If you were on the internet at all this year, there was no way to avoid the "Red Wedding." The infamous scene and the overwhelming online response that followed it demonstrated just how popular Game of Thrones has become. While around 5.5 million watched the show on HBO, a whopping 6 million are estimated to have downloaded the episodes via BitTorrent.
2. 'Breaking Bad'
Heisenberg hung up his pork pie hat for the last time, and audiences gathered in droves to watch Breaking Bad race to its exhilarating end. The AMC show broke its ratings record when over 10 million people tuned in for the series finale — but over 4 million watched it through illegal downloads.
3. 'The Walking Dead'
The Walking Dead, coupled with Breaking Bad, has given AMC a stellar year. The zombie saga is delivering higher ratings with each season, and is now the number one show in the 18-49 demo. It averaged over 16 million viewers this year, but an additional 3.6 million viewers followed the survivors' journey online through BitTorrent.
4. 'The Big Bang Theory'
This blockbuster show is TV's biggest comedy, period. Over 20 million viewers regularly tuned in to CBS to watch the geek-out antics of The Big Bang Theory crew. Still, 3.4 million chose to watch the show illegally, making it the highest-ranking non-cable show on this list.
5. 'Dexter'
Fans and critics have been uniformly disappointed by the conclusion to Dexter. Only 2.8 million people decided to tune in to Showtime for the final chapter of the serial-killer-killing-serial-killer drama. In fact, more people (3.1 million) chose to watch it for free through BitTorrent.
6. 'How I Met Your Mother'
This ratings juggernaut is finally slowing down in its ninth season, averaging around 9.4 million viewers this year (which is still an impressive number). But even in its last season, How I Met Your Mother is still quite valuable to CBS. The final steps in Ted's search to meet the titular Mother is being followed by an additional 3 million people illegally.
7. 'Suits'
For a basic cable show, Suits is building up quite a nice fan following. Although the show averaged around 3.5 million viewers for USA this year, another 2.6 million people watched it via BitTorrent, generating online buzz for this drama about attractive people looking smart in suits.
8. 'Homeland'
Although Homeland's controversial finale (warning: spoilers in the link) has been endlessly dissected online, the buzz did not translate to eyeballs for Showtime. Only 2.38 million people watched the show on TV, while an estimated 2.4 million downloaded it on BitTorrent.
9. 'Vikings'
Vikings has been a promising first hit for the History Channel, which is looking to transition away from actual historical documentaries and towards scripted programming. The Game of Thrones wannabe averaged 6 million viewers this year, and had another 2.3 million illegal viewers online.
10. 'Arrow'
Even with its small audience, Arrow has performed decently by CW's standards — a spin-off based on the Flash is in the works. This superhero drama averaged over 3.2 million viewers this year, and an additional 2.2 million viewers watched via BitTorrent.