Six-Year-Old Trying To Save NASA Funding Gets Awesome Surprise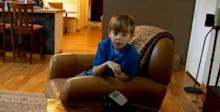 Connor Johnson is six years old, and like many children his age he dreams of being an astronaut. However, when he saw that his dream was growing increasingly out of reach due to threats of budget cuts to NASA, Johnson jumped to action.
After donating the contents of his piggy bank to the administration and talking it over with his family, he started a petition. While the petition likely won't be successful at increasing NASA's funding, it had at least one amazing outcome.
Watch Johnson describe how we wants to "discover new worlds, to discover like asteroids or stuff that I can build stuff out of." 
His petition is short. The title and body of the petition together amount to only 41 words: "Increase NASA funding. So we can discover new worlds, protect us from danger and to make dreams come true. Increase the funding for NASA so that children can dream of exploring the universe. Science funding is the future of our country."
To receive a response from the White House, Johnson needed 100,000 signatures by Sunday. As of writing this article, his petition had 22,318. While it is unlikely that he will reach the 100,000 needed for a response, it has certainly taught Johnson how to exercise his First Amendment right to petition his government.
Perhaps the most amazing outcome of this project, though, is the phone call Johnson received. Eugene Cernan, one of the last people to set foot on the moon — a feat he accomplished 41 years ago — called Johnson, encouraging him to continue pursuing his dreams.
"You've gotta dream about things that a lot of other people think you can't do." Cernan ends his call (above) saying, "Take us back to the moon, take us to Mars. And just remember, I will always be with you on every trip you take."