Taipei: The World's Newest Indie Music Capital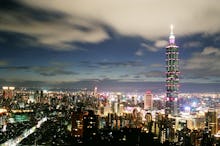 Taipei is a big city with the soul of a small town. I seemed to have forgotten this when I was there last summer, though. When my taxi pulled up in front of a coffee-shop-turned-jazz-bar called Witch House, in a back alley near National Taiwan University, I spotted a line of people in shorts and flip-flops and immediately felt silly; clad in heels, I was ridiculously overdressed for my friend's indie pop concert.
Taiwanese indie pop may sound like a weird or exotic fringe genre, but it's redefining the entertainment industry in East Asia. There's a misconception, partly stemming from K-pop glam (think "Gangnam Style"), that the entire industry promotes an image of wealth and materialism — but the indie music scene in Taiwan proves otherwise.
Earlier this year, the Wall Street Journal dubbed Taipei the most laid-back capital city in Asia. The article also mentioned that the Taipei City government is trying to make it a "creative city," an endeavor reflected in the growing music scene. While a night out in Shanghai, Hong Kong, or Seoul usually entails going to a bar or nightclub, in Taipei the lines are for indie concerts in bohemian cafes, parks, and night markets. These more intimate events are part of the culture of a new generation devoted to taking it easy and keeping it real.
The lifestyle in other Asian cities, where billboards advertise plastic surgery or millionaire match-making services, is generally driven by the pursuit of wealth. But in Taipei, factories and large acres of land are converted into artist villages and farmers markets, providing more venues for live concerts. Creative and entrepreneurial, Taiwan is forging a very different path than its flashier neighbors.
Its capital's indie music scene has deep roots, starting as an underground student scene around university campuses in the 80s. Its growth was made possible by the process of democratization. The lifting of martial law in 1987 by President Chiang Ching-kuo paved the way for new music styles from the West — such as rock-and-roll and heavy metal — to infiltrate pop culture in Taiwan. As the China Post stated, students were "cannibalizing western songs" by changing the lyrics to Mandarin and re-arranging the melodies. And by the 90s, live music houses were popping up around the National Taiwan University area.
Though it began as a fringe movement, indie music is now part of mainstream Taiwanese pop culture, alongside Mandopop. Stripped of the hyper-production of glamorous music videos, songs by established indie artists such as Waa Wei's (Wei Ru Xuan) "Downtown Café," sung in English, and post-rock band Sugar Plum Fairy's purely instrumental "Stone Jasmine" exemplify the fact that indie artists generally want audiences to relax and take in their music regardless of its genre or language.
Chen Hui-ting, lead vocalist of indie band Tizzy Bac, summed up this vibe by explaining that when making music, her priority is not how it will be received by an audience. Some of Tizzy Bac's songs, such as "You Ren" ("Someone"), incorporate only limited instruments and strong vocals with Mandarin lyrics and a smattering of English. While this low-key style might not thrive elsewhere in Asia, it has been a recipe for success in Taiwan: Tizzy Bac has been drawing large crowds to their concerts over the last decade, and has even performed in the U.S. and UK.
Taiwan's annual summer music festival in Fulong Beach just outside of Taipei features mostly indie artists and bands. It drew a crowd of 800,000 music goers in 2012, and nearly one million in 2013. A two-hour flight away in Seoul, K-pop boy bands, with their perfectly-styled haircuts and impeccable dress sense, may have been wooing a crowd of fashionistas. But in Fulong Beach, the young and old alike danced to indie bands like Boxing, who showed up on stage in 2012 dressed in blue jumpsuits and rapping in Taiwanese dialect.
Musical styles among indie artists may be as different as chalk and cheese, but they're all selling their voices and talent, rather than an over-saturated image. Elsewhere in Asia, these artists likely would have been doomed to failure or snatched up by a recording label only to have their image completely revamped. But the indie scene has flourished in Taiwan specifically due to the artists' resilience and a mainstream demand for this type of entertainment.
From pop to post-rock, it's clear that indie artists are tapping into the artsy vibe of Taiwanese cities, proving that being down-to-earth sells records — and that the entertainment industry in East Asia is about much more than glam, materialism, and plastic surgery.