Carly Rae Jepsen is Broadway's Newest Cinderella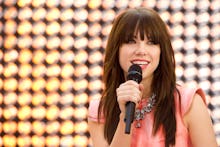 Don't call it a comeback — Carly Rae Jepsen is back! No, not with another perfect pop song, but with a trip to Broadway. Starting Feb. 4, CRJ will be taking over the lead role in the Rodgers and Hammerstein Broadway hit Cinderella. The Canadian singer-songwriter/personification-of-pop-perfection will be stepping into the glass slippers for 12 weeks, taking over for the Tony-nominated Laura Osnes. Though some might question a pop star's decision to take on a broadway role, Jepsen attended the Canadian College of Performing Arts and is trained in stage performance. 
"It's so hopeful and inspiring," Jepsen said in a statement. "I've always been one to believe in the impossible, so I relate to her character completely." Can't we all CRJ, can't we all?
But the excitement doesn't stop there. It was also announced earlier this month that Fran Drescher a.k.a. The Nanny's Fran Fine a.k.a. the nasal voice of a generation will be joining the Cinderella cast as the abusive stepmother, Madame. Also joining the production on Feb. 4, Drescher will be replacing Harriet Harris for a 10 week run. 
Jepsen and Drescher's joining Cinderella certainly is exciting, but there have been a lot of big names on Broadway this year, with many more to come in 2014. This past year, Daniel Craig and Rachel Weisz starred in Betrayal, Billy Crystal in 700 Sundays, Zachary Levi in First Date, Ethan Hawke in Macbeth, Stephen Fry in Twelfth Night, Zachary Quinto in The Glass Menagerie, and Patrick Stewart and Ian McKellen in No Man's Land and Waiting for Godot.
Coming up in 2014, you'll also be able to catch Debra Messing in Outside Mullingar, Bryan Cranston in All The Way, K.D. Lang in After Midnight, Denzel Washington in A Raisin in the Sun, Zach Braff in Bullets Over Broadway, James Franco, Leighton Meester, and Chris O'Dowd in Of Mice and Men, Tony Shalhoub in Act One, Allan Cumming and Michelle Williams in Cabaret, and Neil Patrick Harris in Hedwig and the Angry Inch. (Whoo, that was exhausting just to write.)