98-Year-Old Undeveloped Photo Negatives Discovered in Antarctica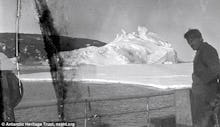 Conservators restoring mementos from a disastrous Antarctic expedition have made a stunning discovery – a tiny box of 22 exposed, unprocessed cellulose nitrate photo negatives, frozen in a block of solid ice for nearly 100 years.
Now being restored, they're stunning. Taken by members of the unfortunate Ross Sea Party of 1914-1917, the photographs survived the marooning of 10 crew members in 1915 and were forgotten upon the crew's rescue in 1917. They were discovered in the remains of the Cape Evans hut owned by Captain Robert Falcon Scott, leader of the Terre Nova Expedition, in an exploration camp.
See the haunting photographs below:
Taken from the deck of the Aurora, looking south upon Hut Point Peninsula.
Many of the photos suffer from irreparable mold damage on the edges.
Alexander Stevens, on board the Aurora.
An unknown individual before the loss of Aurora's crew.
Captain Scott's team had perished of cold and starvation in 1913, and one of their exploration camps was re-used by members of the Ross Sea Party to leave supplies for Sir Ernest Shackleton. That mission failed when their ship, the Aurora, broke free of its moorings and left 10 crew members behind in the Antarctic snow. They endured for three years, accomplishing their original objective of leaving Shackleton's supplies. Just seven survived. The ship's photographer, Arnold Patrick Spencer-Smith, was one of those who did not make it home.
Upon their rescue, they were dismayed to learn that Shackleton had abandoned his attempted crossing of the Antarctic years before when his ship, the Endurance, was crushed in moving floes of ice. They were ironically rescued by Shackleton himself, leading a rescue mission on the restored Aurora.
According to Antarctic Heritage Trust executive director Nigel Watson, "It's an exciting find and we are delighted to see them exposed after a century."
This is what they were restored from:
It's a pretty ridiculous and an amazing find from what historians call the Heroic Age of Antarctic Exploration.