One Of the Highest Paid Athletes in the World is in Critical Condition After Accident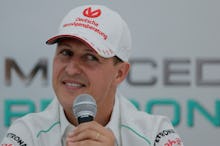 The news: One of the most successful and highest-paid athletes alive is in the hospital after a serious skiing accident. Michael Schumacher, the Formula One racing legend, is in a French hospital after hitting his head hard against a rock while skiing in the French Alps on Sunday. 
Schumacher is in intensive care and is being monitored on an "hour by hour" basis, according to doctors. Although he was conscious immediately following the accident, his brain was not functioning properly. Once in the hospital, Schumacher was put into a medically-induced coma and underwent brain surgery in an attempt to relieve brain swelling.
Schumacher is a big deal. Considered the greatest driver in Formula One racing history after winning seven championships and over 90 races, Schumacher is among the wealthiest athletes in the world. In 2004, he was the second-highest paid athlete in the world, behind only Tiger Woods.  In 2005, Forbes ranked him No. 17 on the "Celebrity 100" power rankings, ahead of Kobe Bryant, P Diddy, and J.K. Rowling. He's currently estimated to be worth around 500 million euros. Though he may not be known prominently in the United States — Formula One racing hasn't exactly caught on here — he's among the most notable athletes worldwide. 
And this isn't the first time Schumacher's been in the hospital for a serious accident. In 2009, after a motorcycling accident in Spain, Schumacher was treated for spine and neck injuries.
Schumacher's wife and children are with him in the hospital, as some friends from his Formula One racing. The entire sport community is hoping for Schumacher to pull through.