12 Perfectly Good Reasons You Should Skip New Year's Eve in Times Square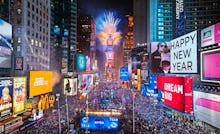 Bright-eyed tourist? Visiting your hedge-fund-owning uncle? Fleeing the law and hoping to disappear into a large crowd?
It doesn't matter who you are, but it does matter how you celebrate New Year's Eve. If you happen to be in New York City on Tuesday night, heed my warning: stay the heck away from Times Square.
It looks appealing to the casual observer — for one, it's one of the world's biggest New Year's parties, and in theory, you get to see the giant ball in Times Square drop firsthand. Since its inception in 1904, which attracted some 200,000 people in porkpie hats and "breeches," New Year's Eve in Times Square has transformed into a million-dollar affair replete with a 12-foot geodesic sphere powered by 672 LED modules and the notable lack of the odor of horse droppings.
This thing does look pretty cool, right?
Image Credit: Anthony Quintano on Flickr
It's followed by over a ton of confetti, meticulously air-tested by the organizers at the request of the NYPD, who feared that some poor tourist could slice his eye open from papercuts. And if the world-famous countdown and revelry aren't enough to entice you into journeying to Times Square, maybe the event schedule will. This year's schedule includes free hats, the ravishing Anderson Cooper, and Dick Clark's New Year's Rockin' Eve, featuring Macklemore, Ryan Lewis, Melissa Etheridge, and Miley Cyrus.
For the casual visitor to NYC who has nothing else to do, this might seem like a pretty good bargain, especially for the low price tag of it's all free. That casual visitor would be wrong.
Here are the numerous problems with New Year's Eve in Times Square.
1. The good spots — i.e., the ones where any of the festivities are actually visible, will be taken by the early afternoon.
2. The not-so-good spots will be an exercise in irritation, seeing as the only entrances are on 6th and 8th Avenues.
3. Everything else will on lockdown by burly dudes in body armor. Cops will be everywhere, and they are not happy to be spending New Year's Eve trying to track down the Joker.
4. If you want to avoid the wait, there's always the option to go to a party hosted by a local restaurant ... like Applebee's, which is charging $375 a person, or TGI Friday's, which offers a smooth $99 entry. People who don't pay very much attention to the New York Times' Food section can go to Guy's American Kitchen & Bar, which is offering party packages and the chance to eat the worst food in New York for $55-$795 (and where you won't be able to see the ball drop).
5. There are no public restrooms.
6. Any alcohol you have will get snatched by the cops, who will likely also promptly write you a $25 ticket.
7. Hundreds of thousands of people. No public restrooms.
8. You probably won't be able to see the ball drop unless you wait 12 hours for a good viewing position.
9. The building that hosts the ball drop is basically abandoned inside because there's too many billboards. Maybe it's also haunted.
10. Weather.com predicts it will be 28 degrees Fahrenheit out at midnight, which isn't so bad. But every inch of Times Square will be covered in muddy sludge and wet salt, guaranteed.
11. Good luck getting a subway ride home. The train you do get on will be awful.
12. You may run into Ryan Seacrest.
You see, there's a reason people who actually live in New York avoid Times Square like it's the Marburg virus. Times Square sucks. While you're waiting 12 hours to see a ball drop, you'll be harassed for spare change, paying $12 for a Coke, and dealing with jerks. Meanwhile, the rest of us will be drinking champagne with our friends and catching the ball drop on television like God intended.
I don't know. Maybe you do want to go to Times Square. Maybe you saw the blurry, distorted, insensible, and stumbling revelers captured in the subway station's murals, and thought "that could be me."
Maybe you didn't get your fill of wafting vomit back on Saint Patrick's Day.
Maybe you haven't yet seen enough of every part of Miley Cyrus.
Maybe you went to Santacon and didn't get in a six-Santa bar brawl.
Maybe gathering shoulder to asscrack with rejected cast members from Jersey Shores and screaming toddlers is your favorite way of saying "I'm not going to let the terrorists win."
Maybe you're a tourist.
If Times Square on New Year's Eve is your thing, than you can probably put up with anything.